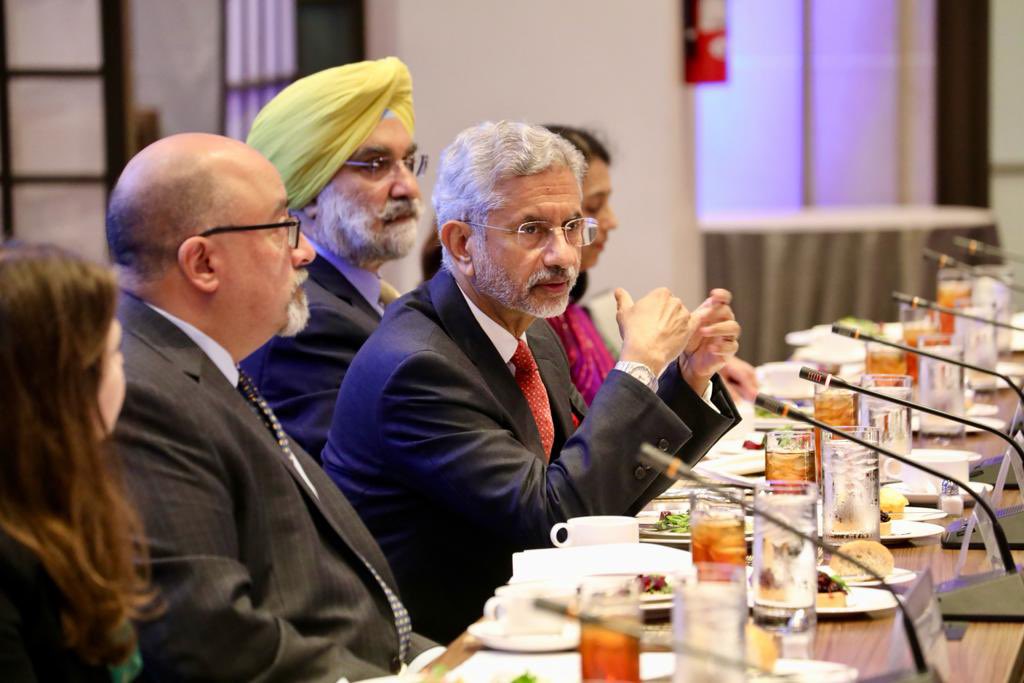 External Affairs Minister S Jaishankar at a USIBC event / X/@DrSJaishankar
S. Jaishankar, India's minister of external affairs, has said that the current situation in Canada should not be normalized in the name of "freedom of speech," in reference to the violence and intimidation directed at Indian diplomats and missions on Canadian soil. 
At a press conference held at the Indian Embassy in Washington, DC, the Minister reaffirmed India's commitment to the principle of free speech while also clarifying that incitement to violence is not protected under this principle.
"We are a democracy. We don't need to learn from other people what freedom of speech is about, but we can tell people this…we don't think freedom of speech extends to incitement to violence. That to us, is the misuse of freedom, that's not defence of freedom," he said.
Jaishankar warned, "Let us not normalize what is happening in Canada," in reference to the numerous acts of violence and threats against Indian Missions in that country. "What is happening in Canada, had it happened anywhere else, had the world taken it with equanimity…had those countries taken it so calmly? So I think it's necessary to call out what is happening there."
The Minister's remarks come after Prime Minister Justin Trudeau accused the Indian government of being involved in the assassination of Hardeep Singh Nijjer, a Canadian citizen who was a wanted terrorist in India. 
In response to a question about whether the issue with Canada was discussed during his meeting with his American counterpart, Jaishankar stated that it was brought up for discussion among several other issues important to the India-US bilateral relationship.
 "Look, I want to be fair. If something is discussed, I am transparent about it. I have no problem saying yes we discussed it. I don't want you to think that in the India-US relationship, there is only one issue. I would say yes, it's an ongoing conversation," he clarified.
The Indian Minister was in the United States on a nine-day official visit to attend the annual session of the United Nations General Assembly (UNGA) in New York and to host a special event on the Global South. On the sidelines, he held several bilateral meetings and gave speeches at the Hudson Institute and the World Culture Festival in Washington, DC.