Media Kit
Welcome to New India Abroad, your weekly digital newspaper, and daily newsletter, available in both English and Hindi languages. As the premier media platform for the global Indian diaspora, we deliver authentic and reliable news, connecting diaspora to their roots. Our comprehensive coverage includes business, politics, economy, communities, news, sports, Bollywood, spirituality, yoga, and more. Join us on this exciting journey of engagement and enlightenment.
Content Reach:
Weekly digital newspaper and daily newsletter in English and Hindi

Special Print Editions: August 15, Diwali, Thanks Giving and New Year

Global distribution for digital and special print editions to reach subscribers, VIPs, delegations, community events and Indian missions.
Advertisement Rates (Weekly):
Full Page: $1,500

Half Page (Horizontal): $800

Half Page (Vertical): $800

Quarter Page: $450

1/8th of a Page: $300
Website Ads:
Frontpage: $300 per week $1000 per month

Inside Pages: $250 per week $800 per month
Dimension for Website Ads:
Header Ad : 1000px * 200px

Header Ads2 : 265px * 75px

Header Ads3 : 265px * 75px

Sidebar Ads : 275px * 500px
Dimension for Newspaper Advertising:
Full Page: 10" X 13"

Half Page (Horizontal): 10" X 6.5"

Half Page (Vertical): 5" X 13"

Quarter Page: 5" X 6.5"

1/8th of a Page: 5" X 3.25" or 2.5" X 6.5"
Classified Advertising:
Regular: $3 per word, minimum 20 words

Display Classified (3" X 4"): $150 per insertion
Take advantage of our diverse readership and extensive reach to showcase your brand and connect with the influential Indian diaspora. Our advertisement options provide excellent visibility and exposure, allowing you to effectively engage with our loyal readership.
For further inquiries or to discuss tailored advertising solutions, please contact our advertising team for any advertising inquiries or to discuss partnership opportunities, please feel free to email at info@newindiaabroad.com. We look forward to hearing from you and exploring ways to collaborate with your brand at New India Abroad.
Please Note the rate list is subject to change without prior notice
Growth Graph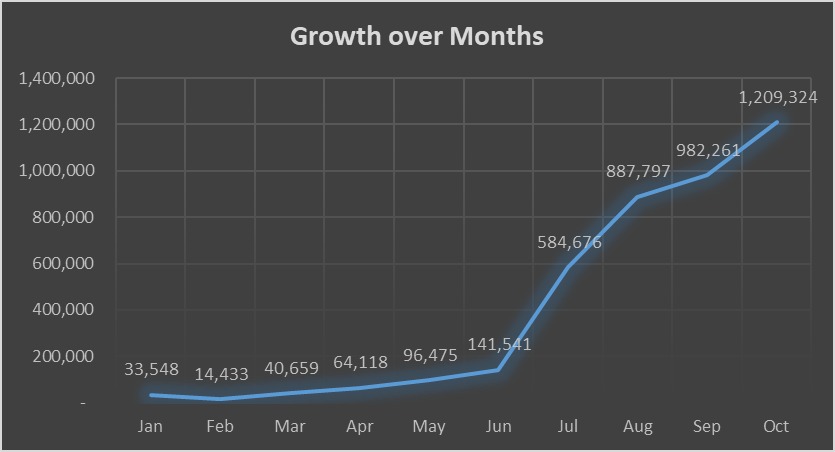 Dimension for Website Ads