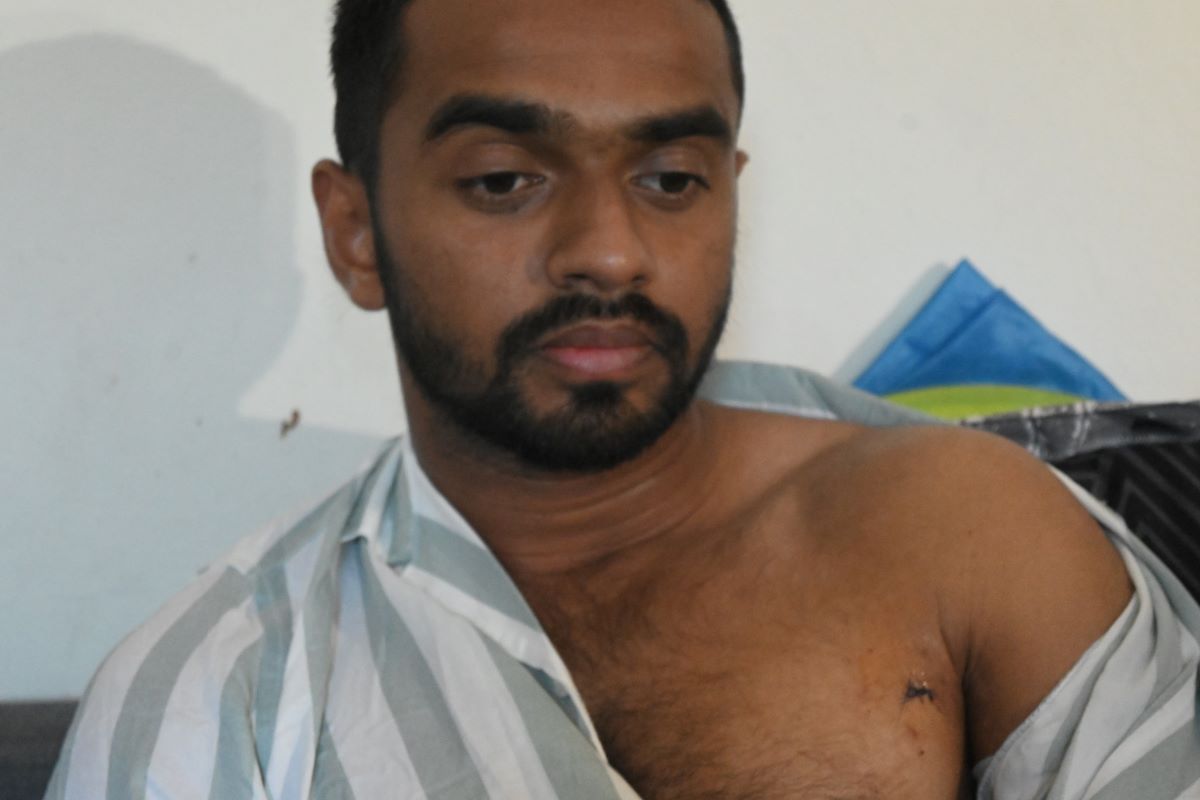 Shadan Syed was stabbed in the chest in a possible hate crime. / Sunita Sohrabji photo
FREMONT, California — Two young students from Telangana, who had been in the US for only three months, were stabbed in a possible hate crime.
Shadan Syed, Khalid Yafai, and their friend Sufiyan Mohammad were at the busy Fremont, California hub on Nov. 17 afternoon when the incident occurred. Describing the incident as "sudden", Syed told New India Abroad in a lengthy interview at his Fremont home, "He came in front of me. I thought he was going to punch me, but he stabbed me. He was silent as he stabbed me. He didn't say anything."
Fighting back tears, Syed added that he had seen the suspect on at least three occasions previously. Police have identified the suspect as Miguel Angel Villareal, 28. He was booked into Santa Rita Jail later that evening, and is being held without bail on one charge of 1st degree attempted murder.
As he was being stabbed, Syed managed to flee from his attacker into a store. He found Khalid Yafai on the ground in a pool of blood. Sufiyan Mohammad, who was inside another store, heard shouts and ran over to his friends' side. He called Syed's brother-in-law Junaid, and 911.
Syed and Yafai were transported to the San Jose Regional Medical Center Hospital's Trauma Unit. Syed, who was stabbed in the chest, was treated for his wounds and released. He identified the suspect through a series of photos police showed him.
Yafai — who was stabbed in the neck, and on both sides of his back as he attempted to flee from his attacker — was placed on a ventilator, as he is incapable of breathing by himself. He has since undergone three surgeries. His brother, Arfat Yafai, told New India Abroad that Khalid would spend at least one more week at the hospital. Doctors have told him that it will take several months for Khalid to fully recover. The 24-year-old can only speak through small hand gestures, indicating when he is in pain.
Khalid Yafai was stabbed three times in a possible hate crime. He has been on a ventilator since Nov. 18, and has endured three surgeries. Doctors say it will months for the young Indian student to fully recover. (photo courtesy of Arfat Yafai)
Arfat Yafai has not yet told his mother and father about the stabbing, fearing that the shock will be too much for them. He is trying to get them visitors' visas to the US so that they can see their son and aid in his recovery. With NIA's assistance, Arfat and community activist Mateen Syed have connected with California Congressman Ro Khanna's office, in an attempt to expedite the visa process, which will be handled by the US Consulate in Hyderabad.
Syed and Yafai, both 24, had recently immigrated to the US to pursue their Masters' degrees in engineering. "This is the land of opportunity," said Syed, adding however, that he was considering returning home to his small town in Telangana.
All four want Fremont police to investigate the case as a hate crime. Islamophobia is prevalent in the US, but has risen dramatically amid the Israel-Hamas conflict.
"What other explanation could there be?" queried Arfat Yafai, noting that his brother wears a full beard, clearly identifying him as Muslim. "There were so many people at the Hub that afternoon, but this man went after my brother and Shadan. Why else would he target them?"
"My brother's wounds will eventually heal, but the trauma will remain for a very long time," said Arfat Yafai. "Even when his stitches are removed, the marks will remain, and remind him of what he has gone through."
Shadan Syed said he has been unable to sleep since the attack. Despite painkillers, he still lives with a great deal of physical and emotional pain, with nightmares of the stabbing haunting him.
Fremont police have not added a hate crime to Villareal's charges. The case has been sent to the Alameda County District Attorney's Office, which could add additional charges. Villareal is scheduled to make his first appearance in court Nov. 22.
Fremont City Councilman Raj Salwan, who worked with Fremont Police Chief Sean Washington to expedite the case, told NIA it is unlikely that Villareal will be charged with a hate crime. "This is a case involving a severely mentally ill man," he said, adding that California and Alameda County must devote more resources to treating mentally ill residents.