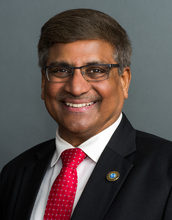 Sethuraman Panchanathan / NSF
The Greater Austin Asian Chamber of Commerce (GAACC) recently honored U.S. National Science Foundation Director, Sethuraman Panchanathan, with a Lifetime Achievement Award on during its 2023 Ovation Gala in Austin, Texas.
The award was designed to honor and celebrate the achievements of noteworthy Asian leaders as well as their contributions to local communities and society.
"I am humbled and honored to receive this Award from the Greater Austin Asian Chamber of Commerce — an ally and advocate of the Asian American Pacific Islander community at large," said Panchanthan.
"At NSF and across the nation, this community is an essential part of our workforce. The breadth of unique perspectives and cultures in this country, including this community, helps NSF fuel scientific discovery and technological innovation in the U.S. and abroad," he added.
He mentioned that the NSF's Growing Research Access for Nationally Transformative Equity and Diversity (GRANTED) Initiative as one effort driving these ideas. "GRANTED builds capacity at emerging and developing research institutions, engaging millions of people more effectively across the country who lack the resources or support needed to enter and thrive in our nation's STEM enterprise."
Panchanathan, who spent his early years in Chennai, India, has a successful career spanning more than thirty years in the fields of science, technology, engineering, and education leadership.
He became the 15th director of NSF in 2020 after the Senate overwhelmingly confirmed him. The Technology, Innovation and Partnerships Directorate was formed by NSF under his leadership, marking the organization's first new directorate creation in almost 30 years.
In his capacity as director, Panchanathan continues to hold prominent positions on a number of important interagency councils and committees, such as co-chairing the National Advisory Council on Innovation and Entrepreneurship and serving on the Gender Policy Council and White House CHIPS Implementation Steering Council. In addition, he co-chairs the Council for Inclusive Innovation and serves as chair of the Interagency Arctic Research Policy Committee.
Panchanathan was the first American of Indian descent to be appointed by the president to the National Science Board. Prior to that, he was a member of the National Science and Engineering Policy and External Engagement committees in addition to chairing the committee on strategy. He has also served as the Arizona State University Knowledge Enterprise's executive vice president. Under his direction, ASU's research output more than doubled, and the university was named the nation's most inventive and rapidly expanding research university.
"Illuminating pathways that harness the breadth of this nation's talent and growing innovation ecosystems that promote equity and teaming is how the U.S. will remain at the forefront of science, technology, and innovation for decades to come," said Panchanathan.