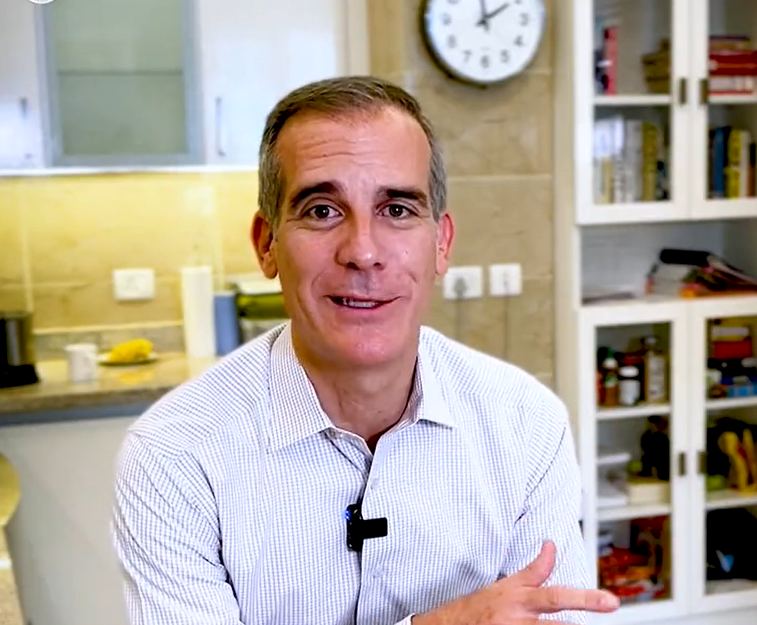 Eric Garcetti / Image-Twitter/@USAmbIndia
The 26th ambassador of the U.S. to India Eric Garcetti recently did an 'Ask Me Anything' (AMA) session where his followers on X, formerly Twitter, asked him questions out of which he picked 26 of them to answer. Questions included work carried out by the U.S. embassy in India to expedite family reunification, the significance of public affairs in diplomatic relations, and his love for Bollywood.
"Public diplomacy is not just about stories and communication. It is about cultural exchanges. To me, life is always interesting when unexpected collisions occur between people who never would have met and become friends or even get married between cultures that usually don't coexist together whether that is inside in India or between U.S. and India….public diplomacy is about making sure it is not just for diplomats, it is for you out there," he said as he responded to a question about significance of public affairs in diplomatic relations.
Responding to the question about expedited immigration visa processing, Garcetti said, the embassy has prioritized reducing wait times for qualified immigration applicants. The wait time has been cut from two months to 30 days to get an interview. The envoy highlighted that the U.S. embassy was able to clear the backlog of visa applications that built up due to Covid, alongside a shout-out to consular staff that made it possible.
Garcetti picked the question where he was asked to list things that made him feel at home in India. "I have to say, I immediately felt at home. Two weeks here, and I felt this was home. I went back to the U.S. and for a minute I was like what is this strange land. But I love both places….distance may be far on the map, on the globe, but every day that distance between U.S. and India is getting smaller and smaller," he said.
He said his life back in Los Angeles and India was familiar in a lot of ways, including indulging in Indian food, practicing yoga, and eating with his hands. The ambassador also listed his favorite Bollywood movies as the 2010 movie 'Udaan', the classic 'Dilwale Dulhaniya Le Jayenge', and 'The Lunchbox'. Garcetti said he has watched a couple of films from other genres of the Indian movie industry, including Marathi language film 'The Disciple' and the Tamil movie 'Soorarai Pottru'.