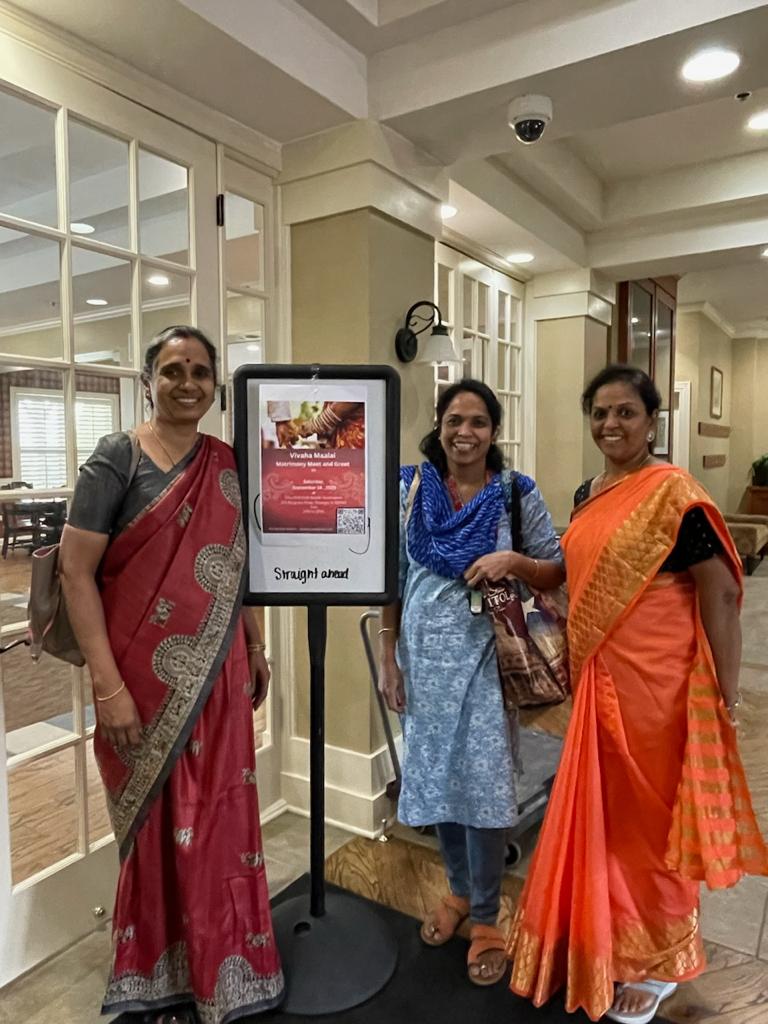 Ramah Muralidharan, Usha Ramalingam, Nalini Venkateswaran (Lto R) at the Chicago meet and greet event. / Supplied
Vivaha Maalai, a volunteer-run matrimony group that connects like-minded families to work out marriage proposals, is now in its thirteenth year of service and claims to have finalized approximately ten weddings per month.
Maintaining that people's perception around having arranged marriages is changing rapidly, Ramah Muralidharan, the founder of Vivaha Maalai said, "Initially, we used to get very few inquiries from parents looking for suitable matches for their children, but now we have many of them coming out and seeking alliances.
"According to Ramah, culturally, Indian immigrants around the world have felt a strong need for a platform to connect like-minded people looking for proposals, and it is here that services like theirs have come in handy.
Ramah, a Maryland resident, founded the Vivaha Malai group 12 years ago after volunteering to collect information on a simple excel sheet and share it with those in need. "The goal is to connect and provide a platform for people of the same age group who are looking for marriage proposals and have been introduced by their families."
Vivaaha Maalai, which operates primarily through Whatsapp groups, has grown to over 2000 members who are actively looking for connections. The members are from the US and other international locations like New Zealand, Australia, Germany, Singapore, and more, Ramah said adding that volunteers in different cities are the contact point for interested families to get registered.
"We organize Zoom meets, and telephone conferences to understand the requirements and do the minimum possible checks that help us match the right families. One factor that distinguishes us is that each member family registered is known to someone in the group and we operate through word of mouth which adds to the credibility, said Usha Ramalingam, a volunteer.
The group has diverse members representing different states of India, and many families are starting to register their children in their early twenties, right after education and settling at a job, which is a new trend we are witnessing," she expressed.
The group plans regular get-togethers in major cities so that members can meet one another and form connections. "We have had successful events in Chicago, Pennsylvania, and Houston earlier. I started to volunteer a few years back realizing how helpful this service could be for people here, said Usha Ganesh from New Jersey, who coordinated the latest meet and greet event at Sri Ranganathar Temple, Pomona, New York.
"When it comes to finding a life partner, younger generations want to look out for themselves but their perspective on how to go about this seems to have changed. They are open today to get introduced to a platform like ours and let the families explore the possible connections. The process seems to be appealing to the immigrant families," asserts Ramah. Vivaha Maalai, the informal group of volunteers will soon be working as a registered nonprofit, the process for which has already begun.