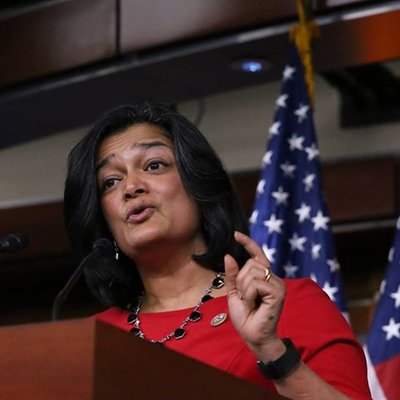 Rep. Pramila Jayapal called out the Republican presidential debate participants for pushing anti-trans rhetoric during the second debate held  at the Ronald Reagan Presidential Library in Simi Valley, California September 27. 
Mother of a transgender daughter named Kashika, Jayapal termed the statements made by the GOP candidates "disgusting" in a post on X. "As the proud mom of a trans daughter, I say stop it. Stop hurting our kids. Stop using them as your political pawns. I will never stop fighting for our trans community. We've got you," her post read.
Governor Doug Burgum of North Dakota, former New Jersey Governor Chris Christie, Governor Ron DeSantis of Florida, Former United Nations Ambassador Nikki Haley, Former Vice President Mike Pence, Entrepreneur Vivek Ramaswamy, and Senator Tim Scott of South Carolina all took part in the second debate. Republican frontrunner Donald Trump was absent. 
During the debate, Ramaswamy, an Indian American candidate for president, referred to transgenderism as a "mental health disorder," especially among children, and pledged to outlaw chemical castration and sex alteration surgeries if elected.
Pence shared Ramaswamy's sentiment about gender affirming care and said, "We're going to pass a federal ban on transgender chemical or surgical surgery anywhere in the country." Calling out an Iowa school district for allowing gender transistion without parental permission, he further added, "We've got to protect our kids from this radical gender ideology agenda."
As per a report, Pence's statement was an exaggeration, and the district did not have a transition plan that included medical procedures, but all schools in its jurisdiction allowed students to use the restrooms of the gender they identified as rather than the one assigned at birth, with a promise to not disclose their status to parents or guardians without consent. 
The policy was revoked in March 2023, after the state passed a law saying public school students could only use the restroom facilities for the gender they were assigned at birth.