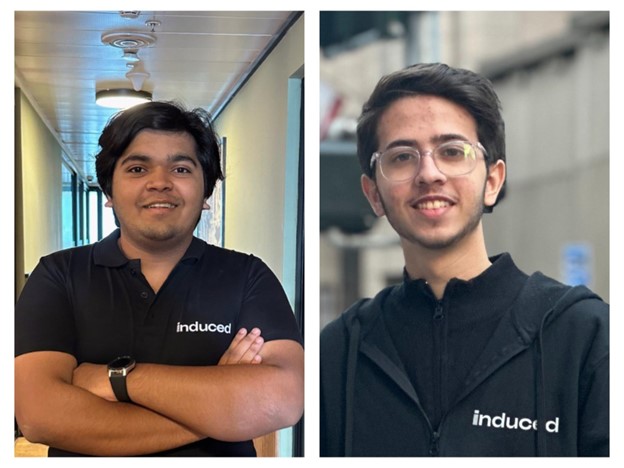 Ayush Pathak and Aryan Sharma / Images - LinkedIn
Induced AI, a rising startup specializing in enterprise AI automation, has achieved a significant milestone by securing $2.3 million in a recent funding round. The funding round attracted notable investors in the industry.
Sam Altman, a co-founder of OpenAI, played a leading role in this investment, contributing his extensive knowledge and experience. Other key participants in this funding round included Peak XV, SV Angel, Signalfire, Superscript, IDEO Colab Ventures, Human Capital, On Deck, Untitled Ventures, and various additional investors.
Established earlier this year by teenage Indian-origin boys, Aryan Sharma (18) and Ayush Pathak (19), Induced AI is at the forefront of creating "AI workers" intended to function as an extension of a user's team, capable of handling a diverse array of tasks and projects. The tasks encompass sales, compliance, internal operations, and virtually any browser-based task imaginable.
The firm sets itself apart from other agentic AI platforms through its cloud-first design, ensuring that automated tasks operate seamlessly in the background without disrupting the user's computer. Furthermore, the company adopts an infrastructure-centric approach, developing a specialized browser optimized for running automated workflows, as opposed to relying on a standard browser.
It also received support from a notable group of angel investors in its initial funding round, including Balaji Srinivasan (former CTO of Coinbase), Julian Weisser (co-founder, On Deck), Tyler Willis (co-founder, Unsupervised), Cory Levy (Z Fellows), Nakul Gupta (ex-Coinbase), Ankur Nandwani (founder, ZetaChain), Sudarshan Sridharan (founder, Pipeline), Rahul Agarwal (co-founder, Valent), Enzo Coglitore, Daksh Miglani (co-founder, Valent), Rahul Rai, Sanat Kapur (Dragonfly Capital), Kyler Wang, and Karan Dalal.