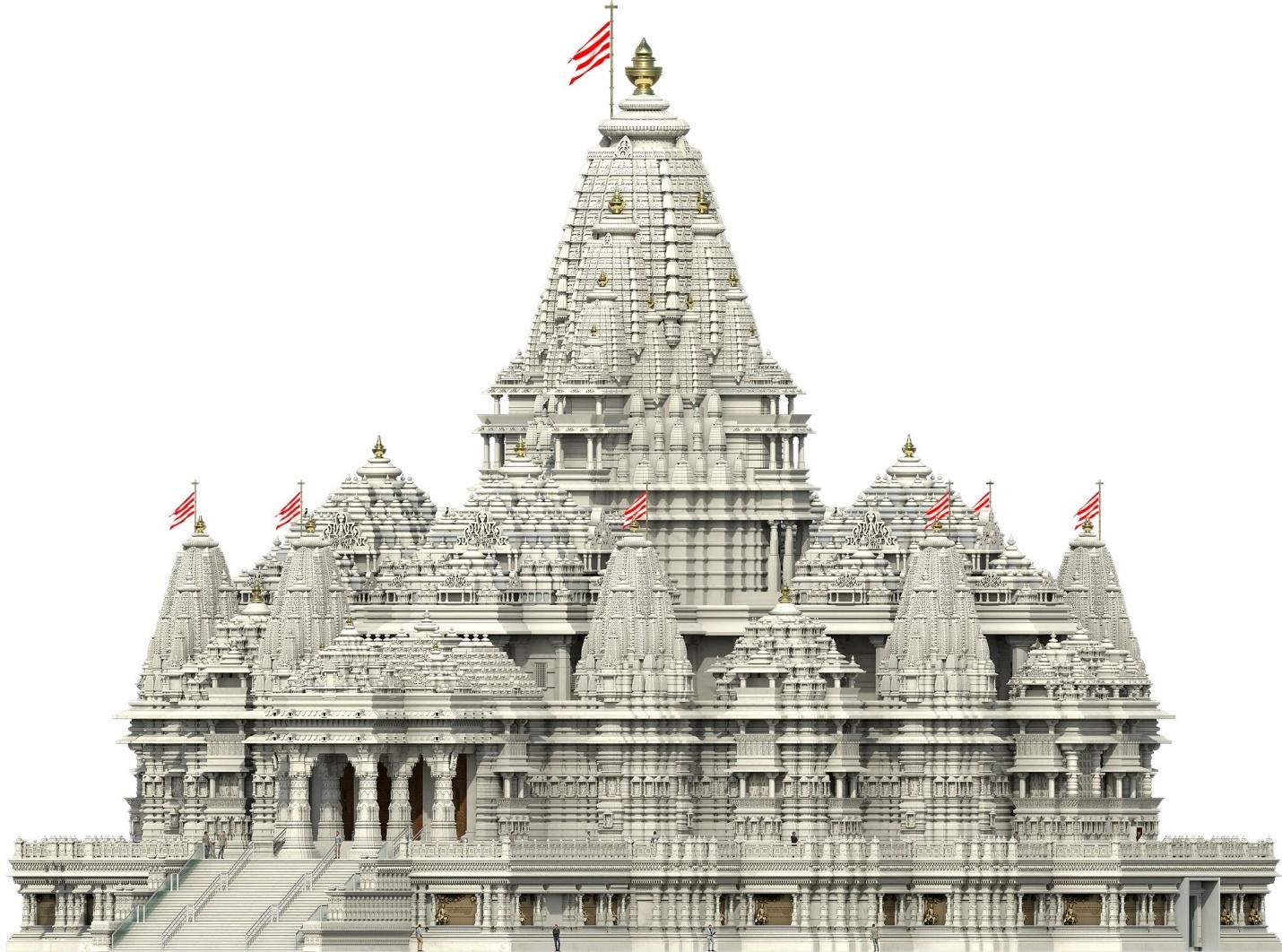 Credit: BAPS temple / Image - BAPS press release
BAPS Swaminarayan Akshardham has announced the inauguration of a temple. It is spread over 185 acres and has been built by 12,500 volunteers who devoted millions of hours of selfless service. The temple, carved from 1.9 million cubic feet of stone, will be inaugurated by His Holiness Mahant Swami Maharaj. The inauguration festivities will begin on September 30, culminating in a grand dedication ceremony on October 8, 2023. BAPS Swaminarayan Akshardham will be open to visitors from October 18th onwards.
BAPS Swaminarayan Akshardham recently hosted a three-month-long 'Festival of Inspirations' in Robbinsville, New Jersey. The event brought together diverse communities united by the themes of unity, spirituality, and community service, echoing the life motto of Swami Maharaj, 'In the joy of others lies our own.' The Festival of Inspirations featured various events celebrating cultural heritage and values promoted by the Akshardham temple. On September 23, the celebrations of the Indian Community Day were inaugurated by Pujya Gnanvatsaldas Swami. Anurag Kumar, President of the Bihar Jharkhand Association of North America, and Syam Kosigi, Vice President of Seva International USA were also present.
Shrikanth Datta of the Shri Ganapathy Sachchidananda Gita Foundation summed up the evening, saying, "Bhagwan Shri Krishna says whatever you see which is powerful and magnificent, understand that to be a splendor of mine. We are witnessing the glory of our Sanatan dharma, the glory of the Bhagwan, and the powerful vision of Pramukh Swami Maharaj in the form of Akshardham. Take this as a valuable treasure for generations, a temple built by volunteers."
On September 16, the temple hosted an event highlighting the theme "Vasudhaiva Kutumbakam: The World Is One Family." The attendees were treated to stage performances, guest addresses, and narratives about the essence of humanity. City of Edison Mayor, Sam Joshi, and Secretary-General for the World Council of Religious Leaders, Bawa Jain, shared their insights and experiences.
Swami reminded the attendees, "Our scriptures profess 'Vasudhaiva Kutumbakam - the world is one family. We're all God's children.' This is an unalterable truth. As long as our actions reflect morality and our character remains pure, we are esteemed in the eyes of God."
The BAPS Swaminarayan Akshardham campus is spread over 185 acres, where 12,500 volunteers devoted millions of hours to selfless service. Crafted from 1.9 million cubic feet of stone, Swami Maharaj will inaugurate this monument. The inaugural festivities are set to begin on September 30, culminating with a ceremony on October 8.