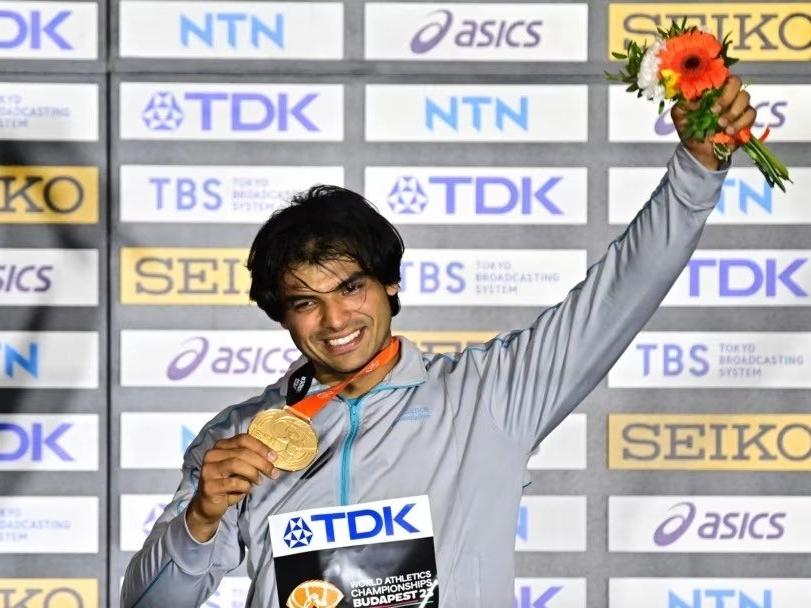 World champion Neeraj Chopra / (Image - X@/neerajchopra)
Indian Olympic and World Champion Neeraj Chopra finished second with a final round throw of 85.71 meters in the men's javelin event of the Wanda Diamond League 2023.
Chopra produced three legal throws of 80.79m, 85.22m, and 85.71m, while the other three were fouls. He finished behind Czech Republic's Jakub Vadlejch whose 85.86m throw fetched him the gold. Vadlejch had earlier won the bronze at the World Championships.
Chopra started with a modest 80.79m throw, which put him in second place, but he fouled the next two throws, pushing him to fifth spot at the halfway point when Germany's Julian Weber was leading. On the other hand, he threw 85.22m in his fourth attempt, propelling him to second place. Vadlejch had taken the lead by that point.
Chopra fouled his fifth throw again, but his final throw was 85.71m, his best of the day. Chopra's next goal is to win the Diamond League championship on September 17 in Eugene, Oregon.
The Indian athlete, who had been unblemished this season until the recent competition, qualified for the Diamond League finals in Eugene, Oregon, with 23 points from three meets. Last year, he won the Diamond League trophy.
Chopra qualified for the Diamond League finals in third place, trailing only behind Jakub Vadlejch (29 points) and Julian Weber (25 points). The Indian did not compete in the Diamond League leg in Monaco owing to injury worries, although Jakub and Weber did.
The 25-year-old Indian ace, won the Diamond League meets in Doha (May 5) and Lausanne (June 30) – his only two events before capturing a historic gold medal at the World Championships in Budapest in August with a throw of 88.17m.