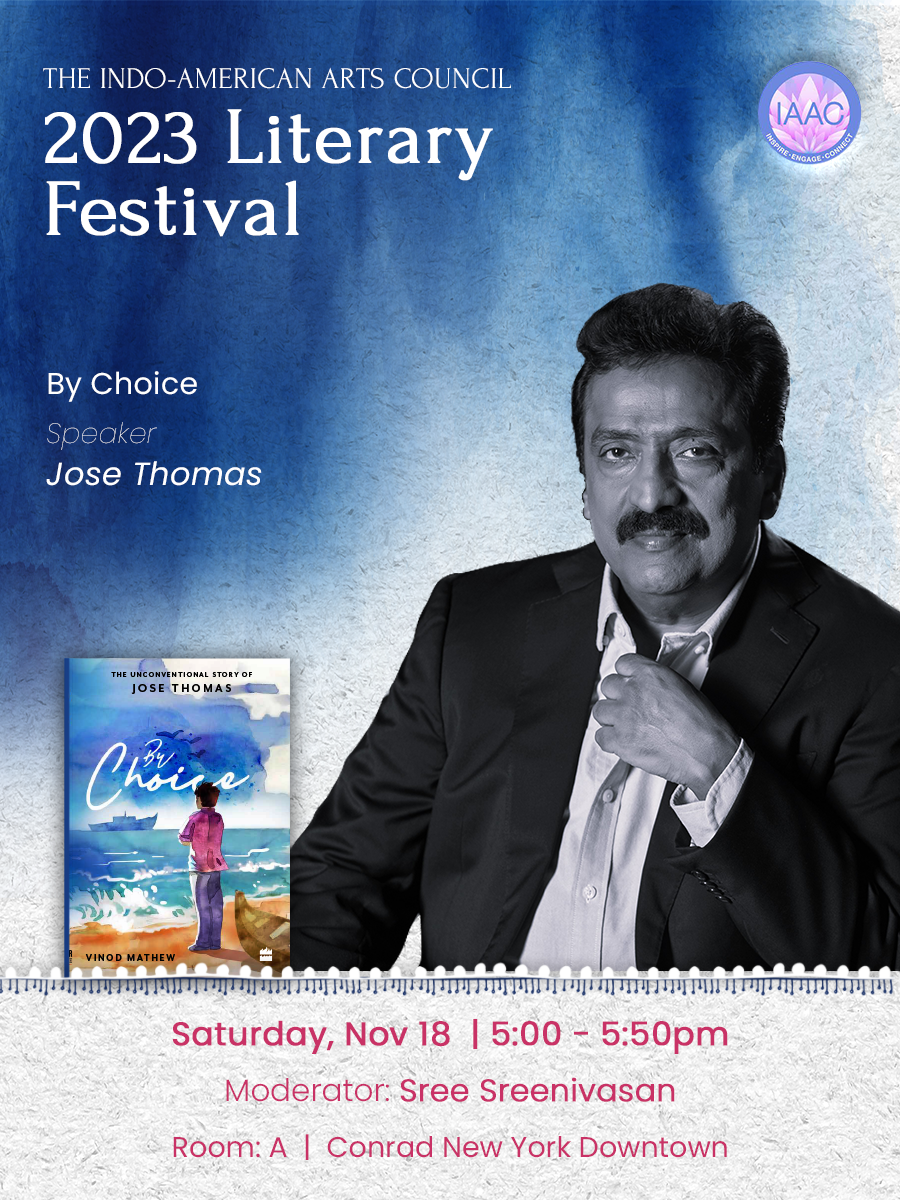 Book Launch poster / IAAC
At the upcoming Indo-American Arts Council's 2023 Literary Festival, Jose Thomas, a pioneer in the seafood industry and a figure of influence across various fields, will share his life story through a captivating book launch. Scheduled for Saturday, November 18, the event will take place at the Conrad New York Downtown.
Following the release of Thomas's autobiography "By Choice," published by Harper Collins India, he will be honored with the IAAC 2023 Trailblazer Award on Sunday, November 19, at the same venue.
Jose Thomas, whose business career spans more than half a century, has revolutionized India's food processing landscape with the introduction of IQF (Individual Quick Freezing) technology through Choice Canning Co.
From pioneering sustainable shrimp processing techniques to launching businesses in real estate, construction, international-quality frozen meal kits, shipping, information technology, and more, Thomas has shown a dedication to quality, sustainability, and constant innovation across a wide range of sectors.
Aside from his entrepreneurial success, Jose Thomas is a polymath - an educator, arts patron, and an innovator. He has made exemplary contributions to education, support for the arts, and establishment of world-class schools.
"The book chronicles Jose Thomas' journey and is a quintessential rags-to-riches story, an inspiring narrative of triumph over humble beginnings. Jose is the 'Shrimp King' of the world, but beyond business, he is a great cook, a skilled pilot, an intense drummer, and a dedicated supporter of the arts. His remarkable book is a must-read for anyone seeking inspiration and testament to the heights one can achieve with dedication and humility," said Rakesh Kaul, vice Chairman, Indo-American Arts Council (IAAC).
"The book launch at the Indo-American Arts Council's 2023 Literary Festival promises to provide insight into the life and journey of this remarkable figure. Attendees can look forward to an engaging discussion with Mr. Thomas, shedding light on the values and principles that have guided him throughout his illustrious career," added Preethi Urs, IAAC literary festival director.