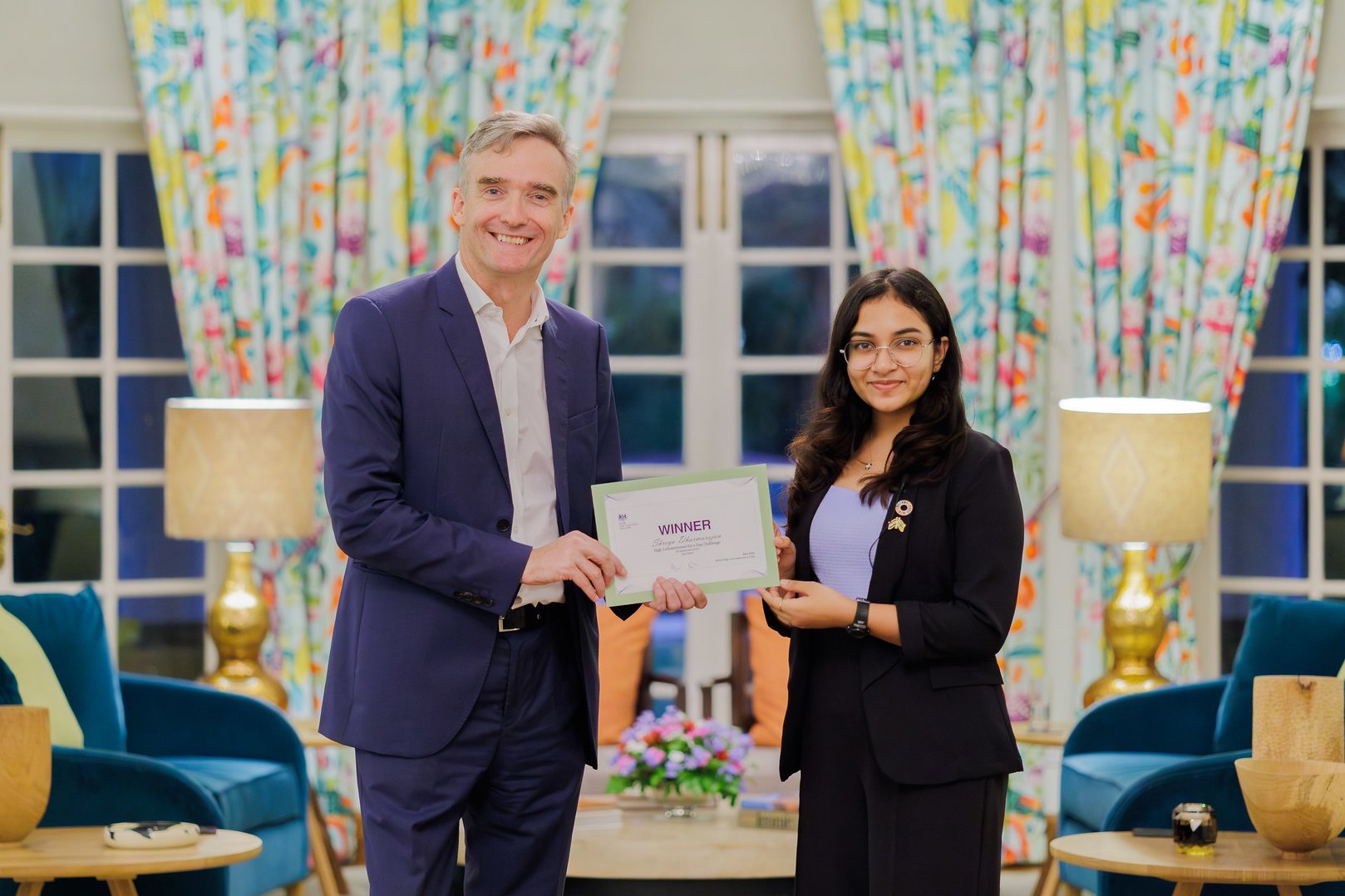 British High Commissioner, Alex Ellis, with Shreya Dharmarajan, the High Commissioner for a day / Images- X/@UKinIndia
Shreya Dharmarajan, a 21-year-old woman from Chennai, India spent a full day serving as the British High Commissioner to India. It was made possible by the British High Commission's 'High Commissioner for a Day' competition in which Dharmarajan's entry was chosen as the winner from a pool of 180 applications from women across the country.
As the UK's top diplomat in India, Dharmarajan had a fully packed day where she led discussions at the United Nations office in New Delhi on advancing the Sustainable Development Goals (SDGs), spoke to one of the Earthshot Prize finalists for 2023, engaged with inspiring women leaders of the Chevening SheLeads programme, and met with the Principal Scientific Adviser to the government of India.
Dharmarajan and the UK in India page on X shared photographs of activities the former partook in as HC for a day. "High Commissioner for the Day @shreyadharma21 launched the (UK-India) report on Customer-Centric Transformation of EV Public Charging Landscape. #DayOfTheGirl"
During the day, Dharmarajan also reviewed plans to bolster the UK-India research collaboration in a meeting with Professor Ajay Kumar Sood, the Principal Scientific Adviser to the government of India. 
She also spoke with Nidhi Pant, the 2023 Earthshot Prize finalist from India for 2023. "Had a refreshing chat with the 2023 @EarthshotPrize finalist from India. Co-founder Nidhi Pant of @S4sTechnologies told me about her three-pronged approach to solve food wastage, poverty, and gender inequality - a phenomenal woman! #DayOfTheGirl #GlobalGoals #SDGs @UKinIndia"
After finishing her stint as High Commissioner, Dharmarajan took to X, and said, "I awaited this day with bated breath and it welcomed me in magnificent ways. With innumerable exciting things to tell my students in Mumbai, this was certainly the busiest and best day of my life."
Ellis took to X to praise Dharmarajan after she took over his job for a day. @shreyadharma21 doing my job for a day was an inspiration. She is a reminder of the talent in India, especially amongst its young women. May they thrive, and rise!" he wrote. 
Dharmarajan was announced as High Commissioner for a Day on September 26. This year's applicants were invited to submit a 1-minute video explaining: "How can young people help lead the way in achieving the SDGs.