'American Sikh' is based on the true story of Vishavjit Singh, a turbaned and bearded Sikh man, who is fighting against intolerance, by adapting the persona of Captain America.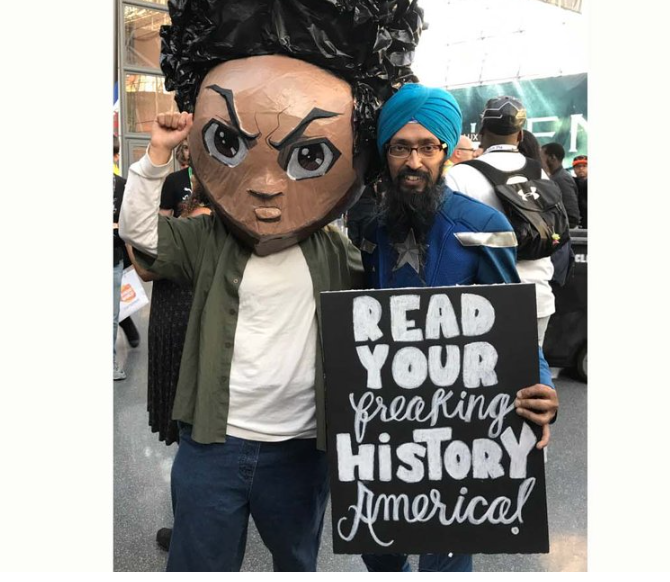 Vishavjit Singh, the man whose story has inspired the movie 'American Sikh' / SikhToons.com
Academy Award–winning producer Guneet Monga Kapoor and Michelin–starred chef Vikas Khanna will serve as executive producers on the film 'American Sikh,' which is based on the true story of Vishavjit Singh, a Sikh man who is publicly known for his Captain America persona. The movie has qualified to be considered for a 2024 Academy Award, Variety reported.
The movie was created by Singh who served as the director-producer, in partnership with director Ryan Westra. It is based on Singh's real life, where he uses his superhero alter ego to fight prejudice and societal expectations about what it means to be an American.
At the recent Sidewalk Film Festival in Birmingham, Alabama, the film took home the award for best short animation. Other awards to its name include best animation at the San Diego International Film Festival, the grand jury award for best short documentary, and the audience choice award at the Tasveer Film Festival in Seattle, alongside a special mention at the Chicago International Film Festival, and an honorable mention at Tallgrass Film Festival.
"Honoured to join hands with @TheVikasKhanna to present our latest Animated Short Film, 'American Sikh,'" Monga wrote on X, formerly Twitter. Khanna expressed what it means to be associated with "one of the most important films of our times,"in a lengthy tweet.
"My heart broke when I saw the attacks on Sikhs during 1984, post 9/11 or Wisconsin Sikh temple shooting in 2012. I arranged screenings of Holy Kitchens documentary at 18 cities across America & Ivy League colleges & Oxford University to showcase the true power & create awareness of Sikhism. I had known about Vishavjit Singh @sikhtoons for a long time & when I saw AMERICAN SIKH by @WildWildWestra my heart stopped. @americansikhflm is the perfect need of the hour to celebrate diversity & brotherhood today & everyday," read a part of his post.