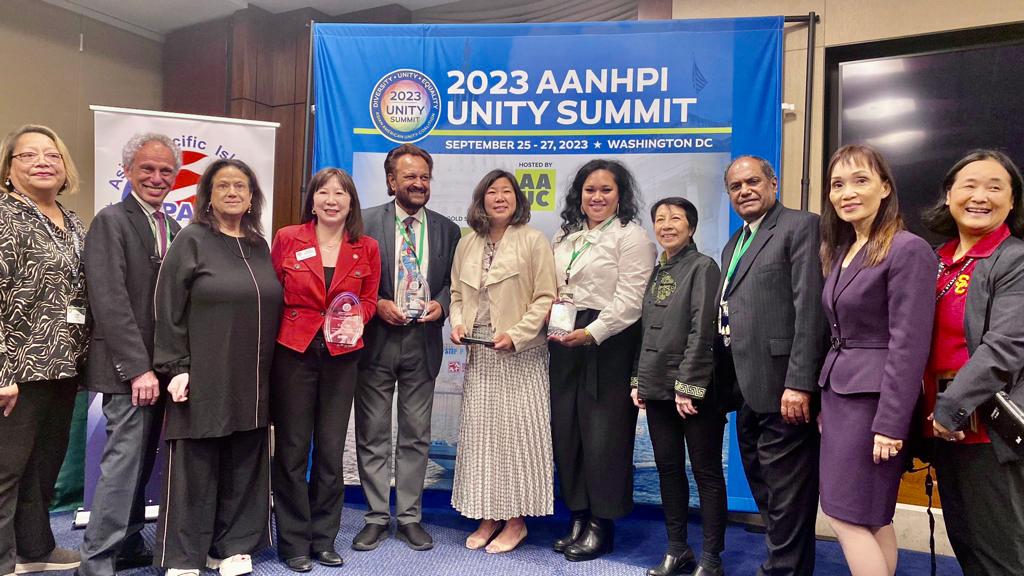 Award recipients with Congresswoman Grace Meng /
The Global Organization of People of Indian Origin (GOPIO) was part of the Unity Summit organised by the Asian American Unity Coalition (AAUC) at the Capitol Hill in Washington DC on September 26.
Important legislative bills concerning the Asian American community including the Teaching Asian American, Native Hawaiian, and Pacific Islander History Act; Korematsu-Takai Civil Liberties Protection Act of 2023; Afghan Adjustment act; Preemption of Real Property Discrimination Act and Eliminating Backlogs Act. of 2023 were discussed at the summit.
The bipartisan Eliminating Backlogs Act (H.R. 1535), which aims to make unused visa numbers in the past years available to those in the waiting list, was particularly important for the Indian community who account for over 1.1 million people in the waiting list.
Group of Indian Americans at the event.
Indian American Congressman, Raja Krishnamoorthi was recognized by AAUC with the Dilip Singh Saund Award in Political Leadership while Silicon Valley Indian community leader and founder chairman of festival of globe, Dr. Romesh Japra was honored with a  Community Service award.
The Summit was addressed by Connecticut Senator Richard Blumenthal, Rep. Raja Krishnamoorthi, Rep. Grace Meng (New York), Rep. Judy Chu (California) and Rep. Shri Thanedar (Michigan).
Rep. Raja Krishnamoorthi receives Political Leadership award