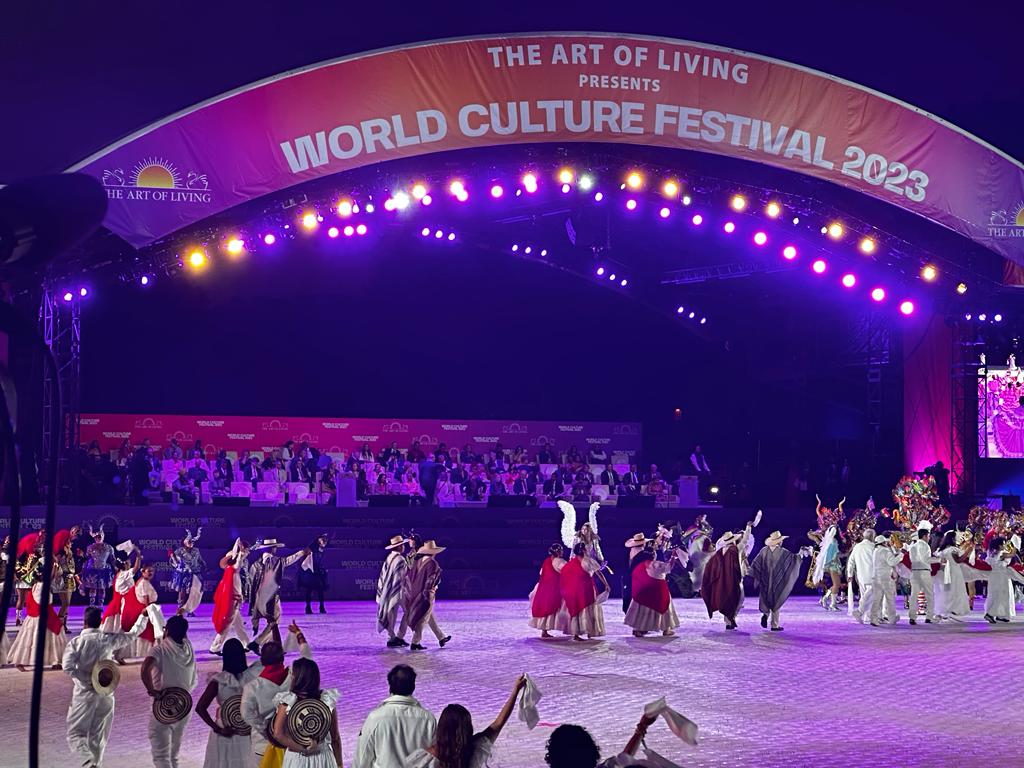 Inaugural of the World Culture Festival 2023 / (Photo: The Art of Living)
Over a million individuals from 180 nations gathered at the National Mall in Washington DC for The Art of Living's World Culture Festival on the opening day of September 29.
Performances included renditions of America the Beautiful and Vande Mataram by Grammy award winner Chandrika Tandon and two hundred artists, Panchabhootam, a 1000-strong Indian Classical dance and classical symphony, another Grammy award winner Micky Free-led guitar choir and traditional dance showcases from Africa, Japan, and the Middle East.
The founder of The Art of Living, peacemaker and humanitarian, Ravi Shankar in his opening address said, "It is such a beautiful occasion to celebrate our diversity. Our planet is so diverse, yet there is an underlying unity of our human values."
Maintaining that the world is one family he said, "Today, on this occasion, let us commit ourselves to bringing more happiness to society. That's humanness. That is what we all are made up of. No celebration gains depth if it's not supported by wisdom. And that wisdom is within all of us. Wisdom is to recognize we are all unique and we are all one."
India's External Affairs Minister, Dr S Jaishankar who also graced the event said, "We are gathered here to express our friendship, strengthen solidarity and promote peace and understanding."
Praising the Art of Living foundation for the conduct of the event under the guidance of Gurudev, he added, "The global thought and international understanding are so visible as I look around me. Humanity is truly a diverse group, and this is expressed through culture, traditions, heritage, and identities."
Other attendees of the event included Ban Ki-moon, the 8th Secretary-General of the United Nations; D.C. Mayor Muriel Bowser; Michigan Congressman Shri Thanedar; Hakubun Shimomura, MP and Former Minister of Education, Culture, Sports, and Science and Technology of Japan; and Eric Solheim, former UN Deputy Secretary-General and Executive Director of UNEP.
"We are one world family," said the founder of The Art of Living Sri Sri Ravi Shankar in his opening address.