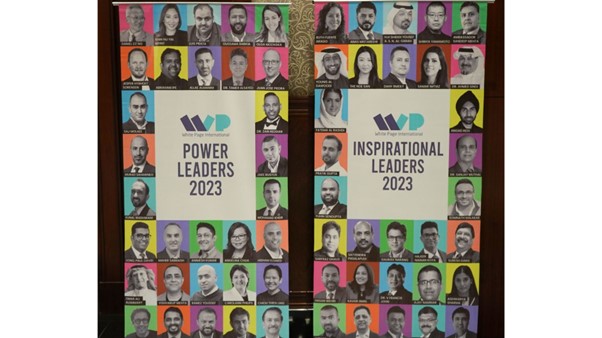 White Page Leadership Conclave 2023 / (Image: LinkedIn/ White Page International)
Several Indians were featured in the list of brands and business leaders at the 11th White Page Leadership Conclave held at the Dusit Thani, Dubai. As per the news release, the consulting company White Page International released the listing of global inspirational leaders, Asia's women power leaders, global power leaders in marketing & communications, human resources, finance, and technology, and power list (brands) 2023. Over 325 delegates hailing from 38 countries participated in the event.
The company honoured powerful and rising brands, visionary entrepreneurs and inspirational leaders which featured personalities from India, including Somnath Malakar of Zee Entertainment, Kaveri Amal of Ortil Healthcare, Bhavesh Tanwani of Yalla Stackz and Mealmaze, Pratik Gupta of Pluckk, Ajay Nambiar of PYP India & M3M India, Amit Agrawal of Aon India, Neel Pandya of PIXIS, Sandeep Dandekar of NTT Global Data Centres, Gaurav Arora of Enhance Hospitality, Dr Revathi Srinivasan of Singhania Group of Schools, Naresh Chaudhary of Partners in Prosperity, and  Sandeep Chatterjee of IBM Consulting.
The annual listing of Asia's women power leaders in the categories of powerful and rising includes Amrita Tripathi of SDNA Global; Archana Chopda (ex-Microsoft, Salesforce); Aruna Vaz (Aster DM Healthcare), Ayesha Mir of Adzone Advertising); Dr Rashmi Agrawal of Skin International Aesthetic Laser Clinic; Dr Ankita Singh of CIGNEX; Kanika Garg of Tata Motors Finance; Kanika Gupta Shori of Square Yards; Shalini Vohra of Landmark Group; Shazia Khalid of Plan B Solution; Shikha Saxena of Practo; Shruti Jaiswal of PepsiCo; Shweta Sharma of TerraPay; Simrun Chopra of Nourish with Sim;  Sonica Aron of Marching Sheep; and Sreerupa Chowdhury of FlyWork.io.
The annual listing of global power leaders in marketing and communications, human resources, finance and technology includes Anand Venkatasubramanian of NTT Data Services; Atul K Sharma of Rapidvise Consulting; Sandeep Kumar of A.P. Moller-Maersk, Shantanu Dash of Senior HR Leader; Vishvarup Mehta of Coupa Software; Avanti Parulekar of Independent Coach; Abhilasha Gupta of Tech Mahindra; Balaji Vaidyanathan of Franklin Templeton; Deepak Renganathan of DAMAC Properties; Jitender Singh of Alter Analytics; Kartik Gangwani of Reliance BP Mobility Limited; and Kunjan Kumar Singh of GenQore.
Sheikh Yousef A.S.N. Al-Sabah, chairman of Industry & Technology for General Trading & Contracting (ITC), was honoured by White Page International as an iconic and global inspirational leader.