On the sidelines of G20 Meeting, Secretary Becerra will hold meetings with G20 Health Ministers and a bilateral meeting with the Organization for Economic Cooperation and Development.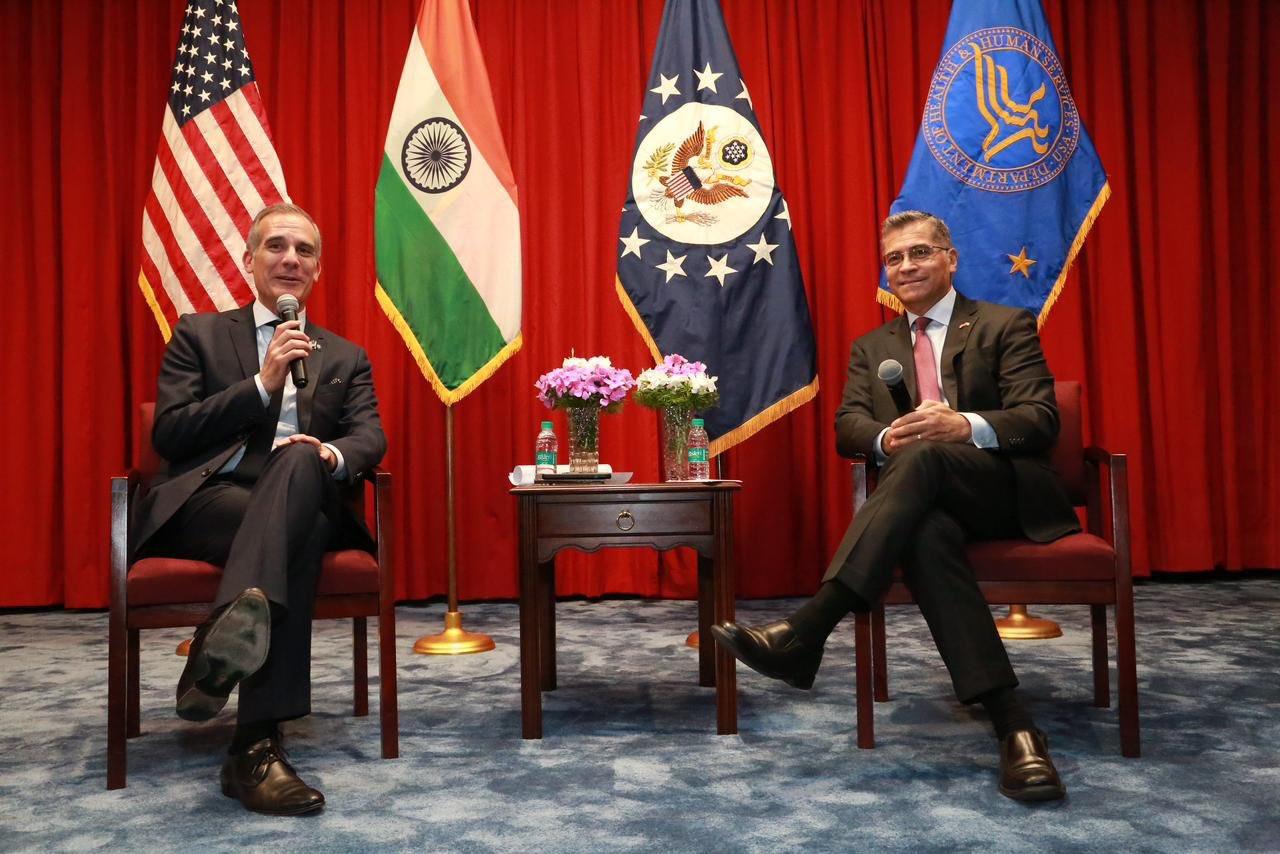 (L to R) US Ambassador to India Eric Garcetti and Secretary Xavier Becerra, / Image – X/ Eric Garcetti
United States Health and Human Services (HHS) Secretary Xavier Becerra arrived in India to participate in the G20 Health Ministers' meeting and bilateral meetings on August 18 -19 in Gandhinagar, Gujarat. US Ambassador to India Eric Garcetti posted a photo with Secretary Becerra wishing him a "fruitful trip" that will "progress the US-India health partnership."
"Welcome to India,@HHSgov Secretary Becerra! Here is to a productive trip that will advance the U.S.-India health partnership, fostering greater cooperation and collaboration on joint health initiatives in all health sectors that will benefit both of our nations. #USIndiaHealth," Ambassador Garcetti wrote on X.

In India, Secretary Becerra will emphasize that the partnership with India is one of our nation's most consequential relationships, and the U.S. and India partnership brings health benefits to the region and the world, the US HHS Department said in a statement.


Union Health Minister Dr Mansukh Mandaviya while inaugurating the G20 Health Ministers' Meeting, stated, "India prioritized Health Emergencies Prevention, Preparedness and Response emphasizing the One Health approach." At the two days ministers level meeting, Secretary Becerra will advance the United States' priorities of Increasing our mutual prosperity, Advancing democracy and human rights, Addressing the climate crisis, and upholding a rules-based order grounded in international law, the Department noted.

Additionally, Secretary Becerra will advance the United States' three priorities of the G20 Health Track under India's Presidency and will emphasize the importance of deepening our bilateral relationship with India, reiterating that India is one of America's indispensable partners, the release stated.