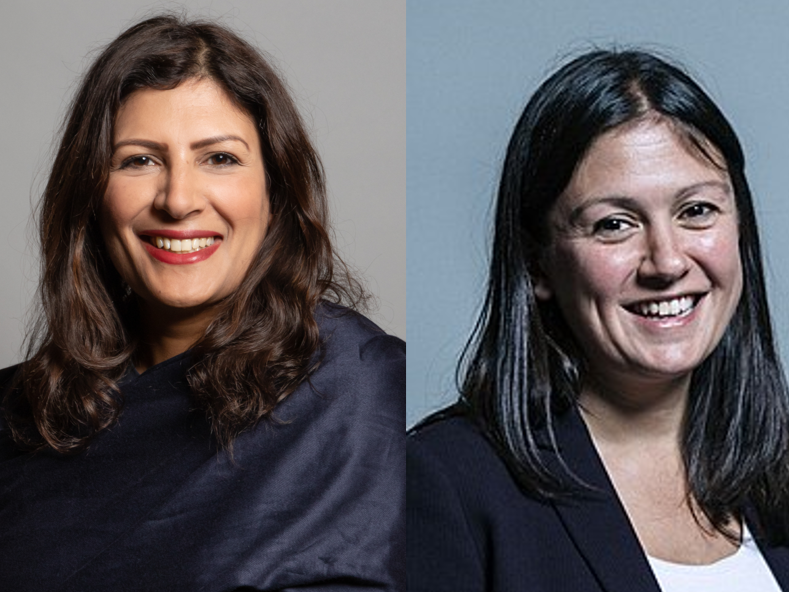 Credit - Preet Kaur Gill (L) and Lisa Nandy (R) / Image-Wikipedia
In a significant reorganization of the United Kingdom's Opposition Labour Party, Keir Starmer, the party's leader, unveiled a series of changes within the shadow cabinet. The reshuffle saw the demotion of Indian-origin shadow ministers Lisa Nandy and Preet Kaur Gill.
Lisa Nandy, Member of Parliament for Wigan and daughter of the Kolkata-born academic Dipak Nandy, renowned for his contributions to race relations in Britain, was among those affected by the reshuffle. Nandy was removed from her role as the shadow secretary of state and appointed to a new role as an international development minister. This position was formerly held by Preet Kaur Gill. 
Lisa Nandy tweeted, "There is so much potential across our country. But to realise it, we need a government that will spread power and opportunity far more widely. That's what the next Labour government will do, and it's what 'All In' is about."
Preet Kaur Gill, who made history as the first British Sikh female member of Parliament in the House of Commons, took to social media to reaffirm her support for Keir Starmer's leadership amidst the changes within the shadow cabinet. Gill was demoted to an MP position.
Preet Kaur Gill took to Twitter and said, "It has been a great privilege to serve as the Shadow Secretary for International Development through a tumultuous few years: a global pandemic that has set the clock back on years of progress, the UK's disastrous exit from Afghanistan, and Putin's abhorrent war in Ukraine." Gill commended the efforts in holding the government accountable for harmful decisions, thanked her colleagues, and pledged to continue championing international development. She wished her successor success in restoring Britain's global reputation. 
She added, "It couldn't be clearer that we need to turf out this rotten, zombie government and put a mission-driven Labour government in power. It is as clear today as it was three years ago when I supported his campaign to be leader, that Keir Starmer is the Prime Minister Britain needs. I will continue to do all I can to help Labour build the better Britain that my constituents and the country deserve."