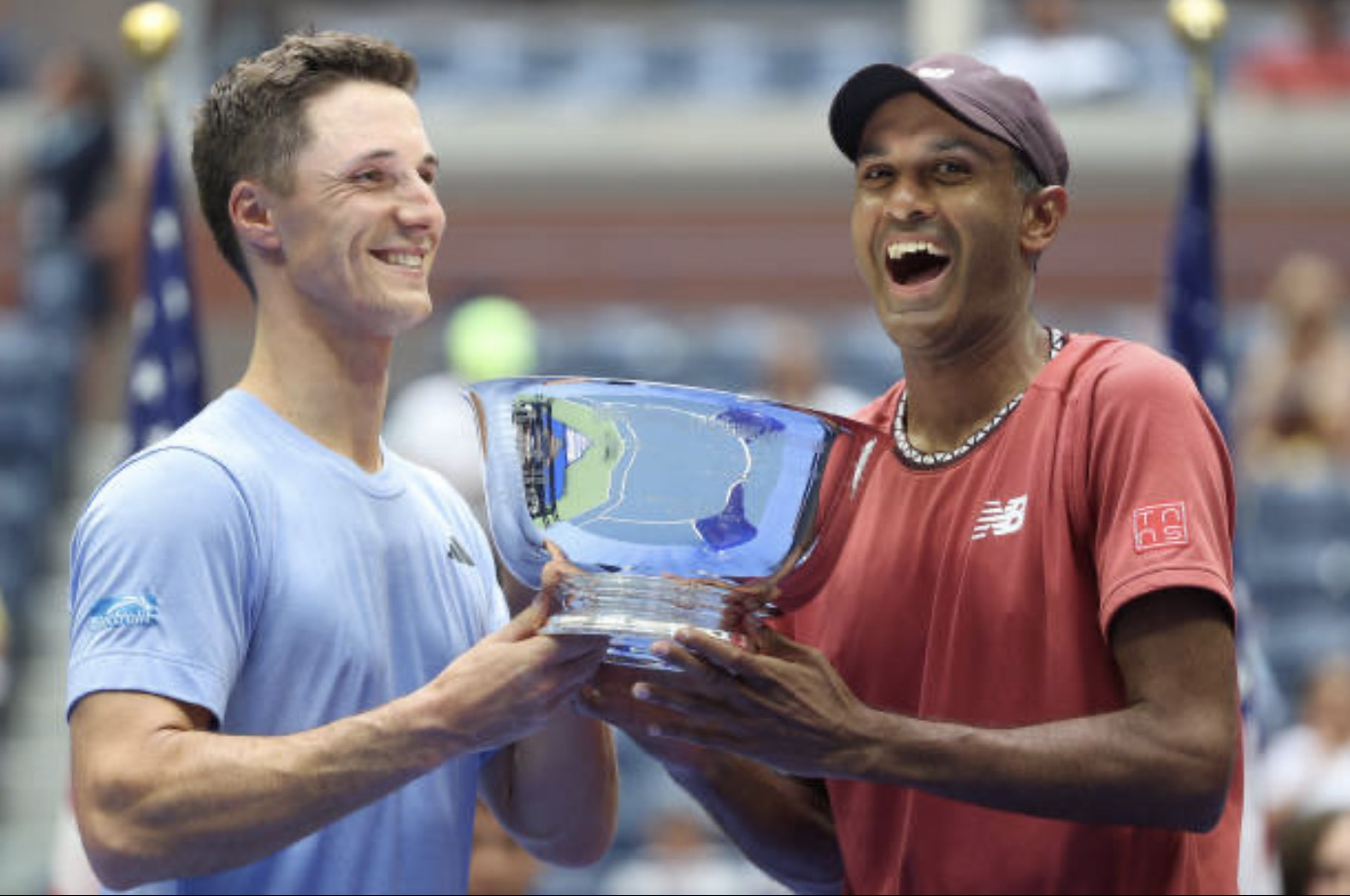 Photo caption: Rajeev Ram (right) and Joe Salisbury hold their winning trophy at the 2023 US Open. / (photo courtesy of Rajeev Ram)
Tennis legend Rajeev Ram's abundance of energy literally bursts through his Zoom screen. The Indian American sportsman — who won his third consecutive men's doubles championship Sept. 7 at the US Open, with partner Joe Salisbury — is now gearing up for the 2024 Olympics. 
Ram has twice before played in the Olympics: in 2016, he partnered with Venus Williams in mixed doubles, and won a silver for the US, besting out Rohan Bopanna and Sania Mirza in the semi-finals. "I will be the most-hated person in India today," joked Ram with the media after that match.
In an interview with New India Abroad, Ram discussed winning his third US Open title, his competitor in that match Rohan Bopanna, who is also a friend, and the foundation he has established to support low-income children who want to play tennis. Here are excerpts:
NIA: Three weeks ago, you won your third consecutive U.S. Open men's doubles title. Congratulations! Describe what you felt in that moment.
Rajeev Ram: I don't even know if I have the words really, to be honest with you. You know, it's my home Grand Slam. It's a tournament that I've been going to since I was 14 years old. I actually was there the first year that Arthur Ashe Stadium opened up. To win that thing three times in a row and be the first team in the Open to do that, it's incredible. I just truly just feel honored to be able to say that I've done it.
During the first few minutes of the match, it looked like it was going to be a toss-up. Rohan Bopanna and Matthew Ebden clearly had some grip on the game at that point. At what point did you know, you were going to win your third title?
We were in the exact same position two years ago in our first US Open. We were down a set. We got killed in the first set 6-2. I guess that's where experience really helps. I don't think there was much panic. I think we both felt like we just if we kept at it, kept at it like we were going to get our chance. We were only going to continue to improve. 
This interview is obviously about you, but I wonder if you could just spend a couple of seconds and talk about Rohan Bopanna. Where you see the trajectory of his career going? 
Rohan is someone I've known for 20-25 years, one of my closest friends on tour. Look, if you were to tell me two years ago that he was going to be in a Grand Slam final and be in the top 10 of the world, I would have said that's tough. You know, he's a little older. And I think the fact that he's been able to keep going and play at such a high level and actually have one of his best seasons on tour at this point just shows you what kind of guy he is, what kind of perseverance he has and what kind of resilience he has. And it's genuinely inspiring. 
I just hope that he keeps going because I think it's a genuine credit to the game. 
You've come up against some pretty tough challengers. Who is still out there that you want to be able to come up against?
You know, there's one and it's not going to happen anymore. I played on tour with Roger Federer until he retired. But I've never got to play him in a real match in singles or doubles. I'm proud of the fact that I played in his generation, but never playing him was a little regret of mine, for sure. 
Who's the most intimidating player you've come up against with some measure of dread?
I've gotten to play Rafa — Rafael Nadal — in singles. That was tough. The most intimidating at times were actually Bob and Mike Bryan: not in a bad way, but I just felt like when you played against them, they had such an energy and they had such a sort of swagger and charisma that you felt like if you didn't match that, it was going to be over in 20 minutes.
You have founded the Rajeev Ram Foundation to support low-income children who want to play tennis. What are your goals there?
Tennis gives kids a great option of something to do that is healthy: you're outside, you're learning, and you're playing with peers. Tennis is expensive. Lessons are expensive. The equipment's expensive. Court time, all that. So we support players who can't afford all those things.
Sport is such a great way to remain healthy both mentally and physically. And I feel like if you give more kids the opportunity to play, they are going to thrive.