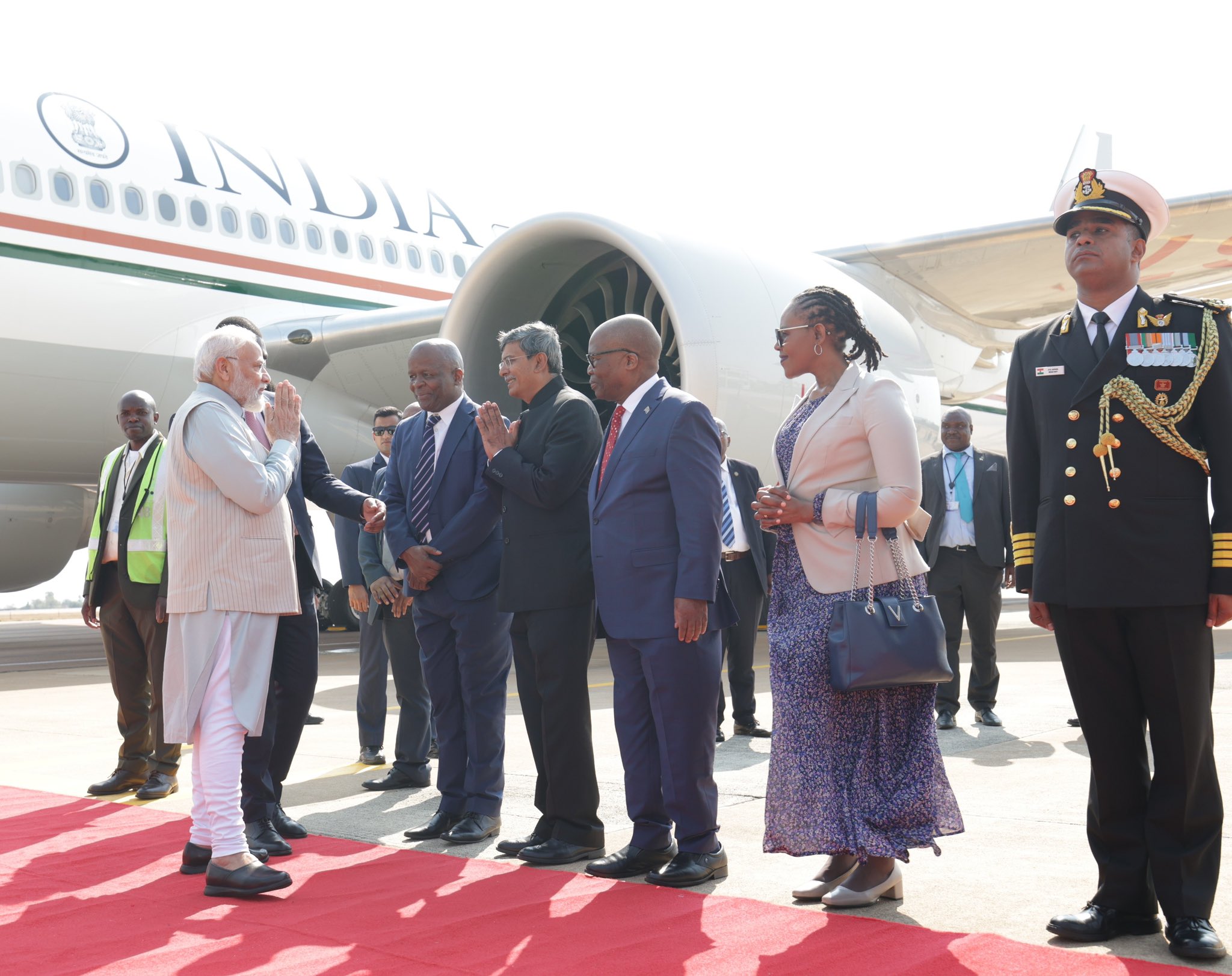 PM Narendra Modi lands in Johannesburg, South Africa / Image: X/@PMOIndia
Heads of state of the five BRICS nations -Brazil, Russia, India, China and South Africa- will meet in Johannesburg, South Africa for the first in-person BRICS summit after 2019. Over the last three years, the meetings were held virtually because of COVID-19 pandemic.
Prime Minister of India Narendra Modi, President of the People's Republic of China Xi Jinping and President of Republic of Brazil Luiz Inácio Lula da Silva arrived in Johannesburg while Russian President Vladimir Putin, is scheduled to join the summit virtually. Foreign Affairs Minister of Russia Sergey Lavrov reached Johannesburg to represent the country.
During the three day summit, BRICS leaders will discuss a range of subjects including expanding the five-nation group. As per reports, nearly twenty-five countries including Saudi Arabia, Iran, Argentina, , Egypt, Ethiopia and United Arab Emirates  have formally expressed interest to get inducted in the group. Amid Ukraine war and US sanctions on Russia, this edition of BRICS carries significance in terms of outcome from three days deliberation.
Before leaving for Johannesburg, PM Modi  stated India's stance on BRICS. He said,  "We value that BRICS has become a platform for discussing and deliberating on issues of concern for the entire Global South, including development imperatives and reform of the multilateral system." On the summit, he remarked "This Summit will provide a useful opportunity for BRICS to identify future areas of cooperation and review institutional development."
During his stay in Johannesburg, Modi will also participate in BRICS–Africa Outreach and BRICS Plus Dialogue event that will be held as part of the BRICS Summit activities and will meet heads of the participating states, according to a release. After Johannesburg, he will travel to Athens, Greece on 25 August 2023 at the invitation of Prime Minister of Greece Kyriakos Mitsotakis.