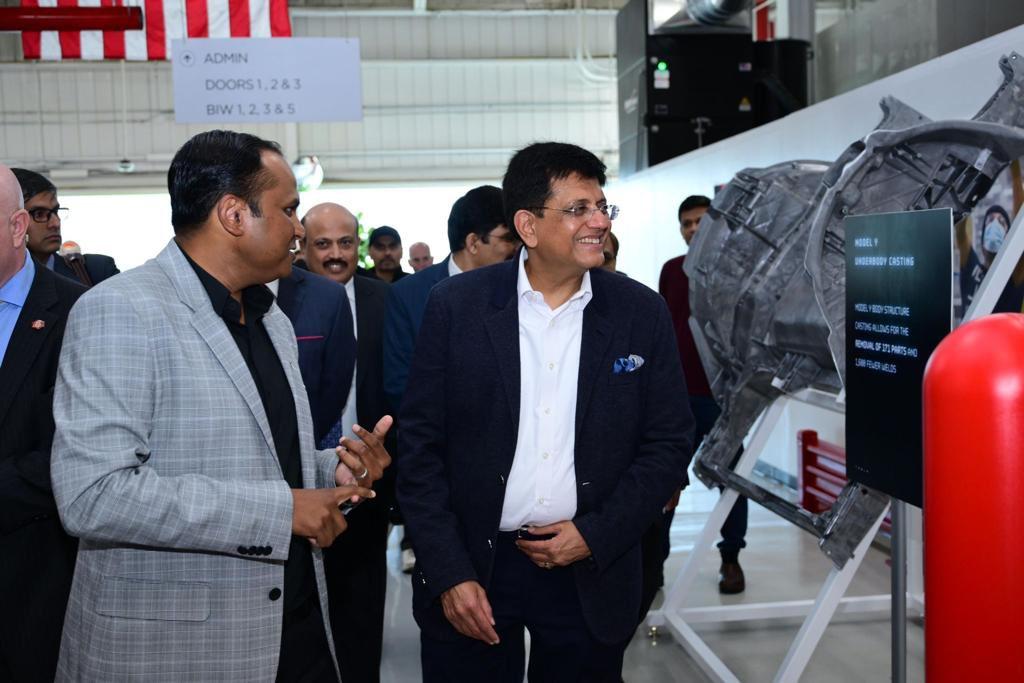 Piyush Goyal at Tesla unit / (Image: X/@PiyushGoyal)
India's Minister of Commerce and Industry, Consumer Affairs, Food and Public Distribution and Textiles, Piyush Goyal, visited the Tesla Factory Unit in Fremont after having arrived in San Francisco, United States, on November 13, 2023. Kicking off the official tour, he interacted with the senior executives of the Tesla group.
Taking to X, Goyal expressed delight on witnessing talented Indian engineers and finance professionals working in senior positions and contributing to Tesla's remarkable journey to transform mobility.
"Also, proud to see the growing importance of auto component suppliers from India in the Tesla EV supply chain. It is on its way to double its components imports from India," he wrote on the social media platform.
According to the Commerce Ministry's statement, Goyal also held bilateral meetings later in the day with United States Trade Representative Katherine Tai; Dukgeun Ahn, Minister of Trade, Republic of Korea; and Gan Kim Yong, Minister of Trade and Industry, Singapore.
During these ministerial meetings, the minister discussed potential collaboration under the Indo-Pacific Economic Framework (IPEF), ways to further enhance bilateral trade and commerce linkages, matters related to WTO, and other issues of mutual interest. He suggested an expedited conclusion of the review of ASEAN-India Trade in Goods Agreement (AITIGA) and the Comprehensive Economic Partnership Agreement (CEPA), respectively.
Piyush Goyal at the Investors Round Table in San Francisco (Image: X/@PiyushGoyal)
The Minister then participated in the investors round table hosted by the US-India Strategic Partnership Forum (USISPF) and Consulate General of India in San Francisco. The event was attended by venture capitalists and entrepreneurs from a wide spectrum of industries in the US, including from the domains of energy, manufacturing, logistics, technology, and so on.
During the visit, the Minister will participate in the third in-person IPEF Ministerial meeting, and the engagements of the Asia-Pacific Economic Cooperation (APEC). He will also interact with officials and industry leaders to fortify the partnership between the two nations and strengthen trade and economic ties.