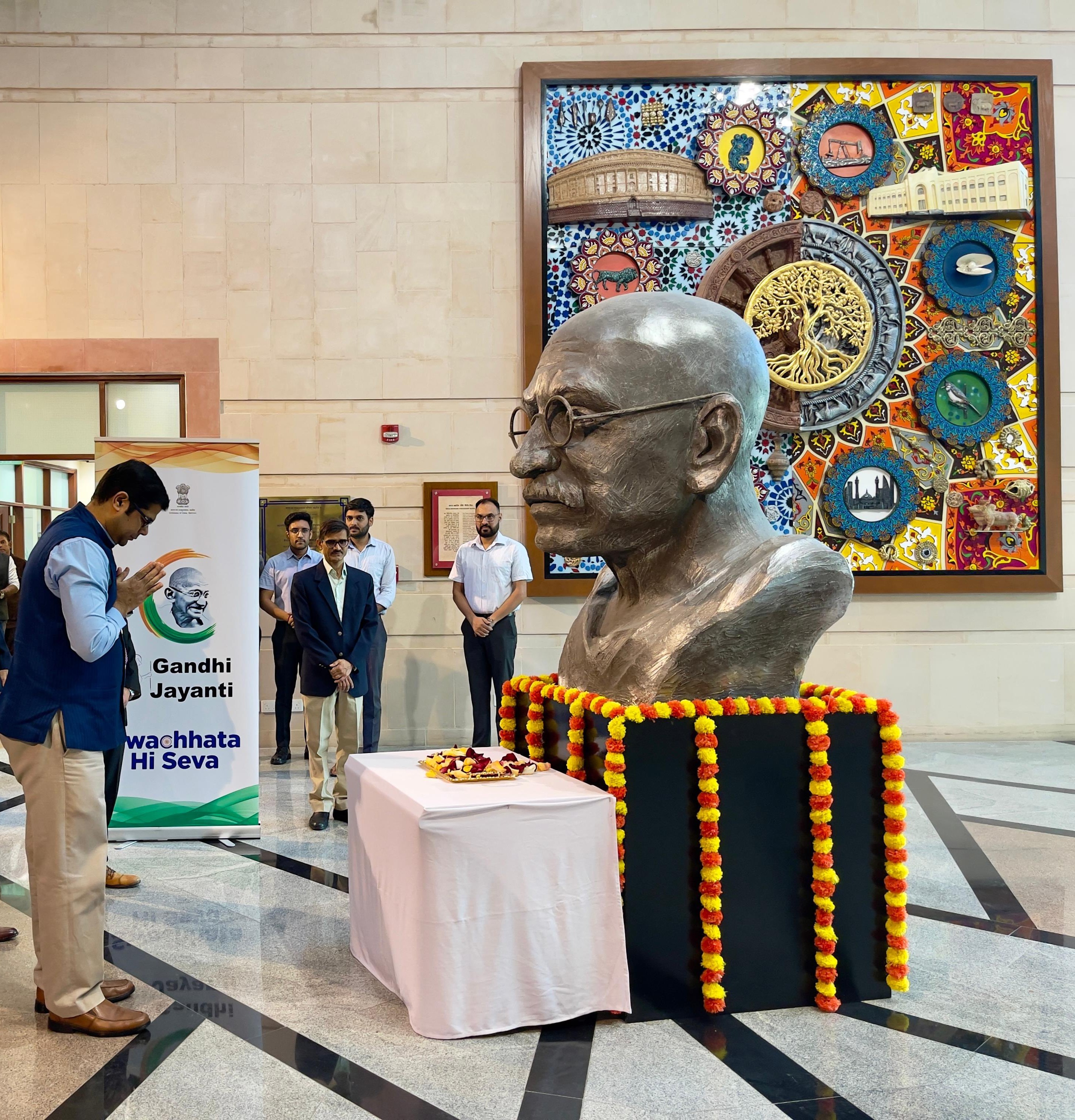 Caption - Gandhi Jayanti celebrations in Bahrain / Image - X/@IndiaInBahrain
October 2 marked the celebration of Gandhi Jayanti all over the world. Respecting the legacy and work of India's 'Father of the Nation', India's External Affairs Minister, Dr S. Jaishankar, paid a solemn tribute to the Father of the Nation, Mahatma Gandhi, at India House in New York on the eve of October 2.
The event served as a reminder of Gandhi's enduring influence on India and the world. In a separate event, former Indian President Ram Nath Kovind paid his respects at the Gandhi Memorial in Washington D.C., paying an ode to Gandhi's life which inspired generations. 
Credit: Former President Shri Ram Nath Kovind at Gandhi Memorial in Washington DC; Image - Twitter/@IndianEmbassyUS
 
Credit: EAM Dr. S. Jaishankar at India House; Image - Twitter/@SandhuTaranjitS
UAE

Credit: Sanjay Sudhir pays floral tribute; Image - Twitter/@IndembAbuDhabi
Gandhi Jayanti was also observed in the United Arab Emirates as Ambassador Sunjay Sudhir paid a floral tribute to Mahatma Gandhi. The event highlighted the significance of these values in today's world and emphasized the shared commitment of India and the UAE to uphold them.
UK
Credit: At Tavistock Square;  Image - Twitter/@HCI_London
Chief Justice of India, DY Chandrachud, Maharashtra Minister Sudhir Mungantiwar joined the High Commissioner of India Vikram Doraiswami to honor Gandhi in London.  Deputy Mayor of Camden, Members of Parliament, Lords, and members of the community also paid  floral floral tributes to the great leader.
Notably, students from St. James' School joined in the celebration, learning about Gandhi's philosophy and its importance in today's world.
Credit: Students from St. James' school; Image - Twitter/@HCI_London
France
Credit: The stamp issued by La Poste France on Mahatma Gandhi's 150th Jayanthi. The stamp; Image - @JawedAshraf5
India's Ambassador to France and Monaco, T. Jawed Ashraf, reshared a commemorative stamp issued by La Poste France on the 150th Jayanti of Mahatma Gandhi, quoting the iconic words, "My life is my message." The stamp served as a reminder of Gandhi's vision of equality, sustainability, and social justice, which continues to inspire the world on his 154th birth anniversary.
Singapore
Credit: The High Commissioner at the Gandhi Centre to introduce young minds to his life teachings; Image - Twitter/@IndiainSingapor
The High commissioner paid floral tributes to Mahatma Gandhi at the Global Indian International School. He also visited the Gandhi Centre, a dedicated space created to introduce young minds to Mahatma Gandhi's life and teachings. This effort aimed to ensure that Gandhi's profound message of peace, non-violence, and social justice remains alive in the hearts and minds of the youth.
Credit: The High Commissioner at the Gandhi Centre; Image - Twitter/@IndiainSingapore