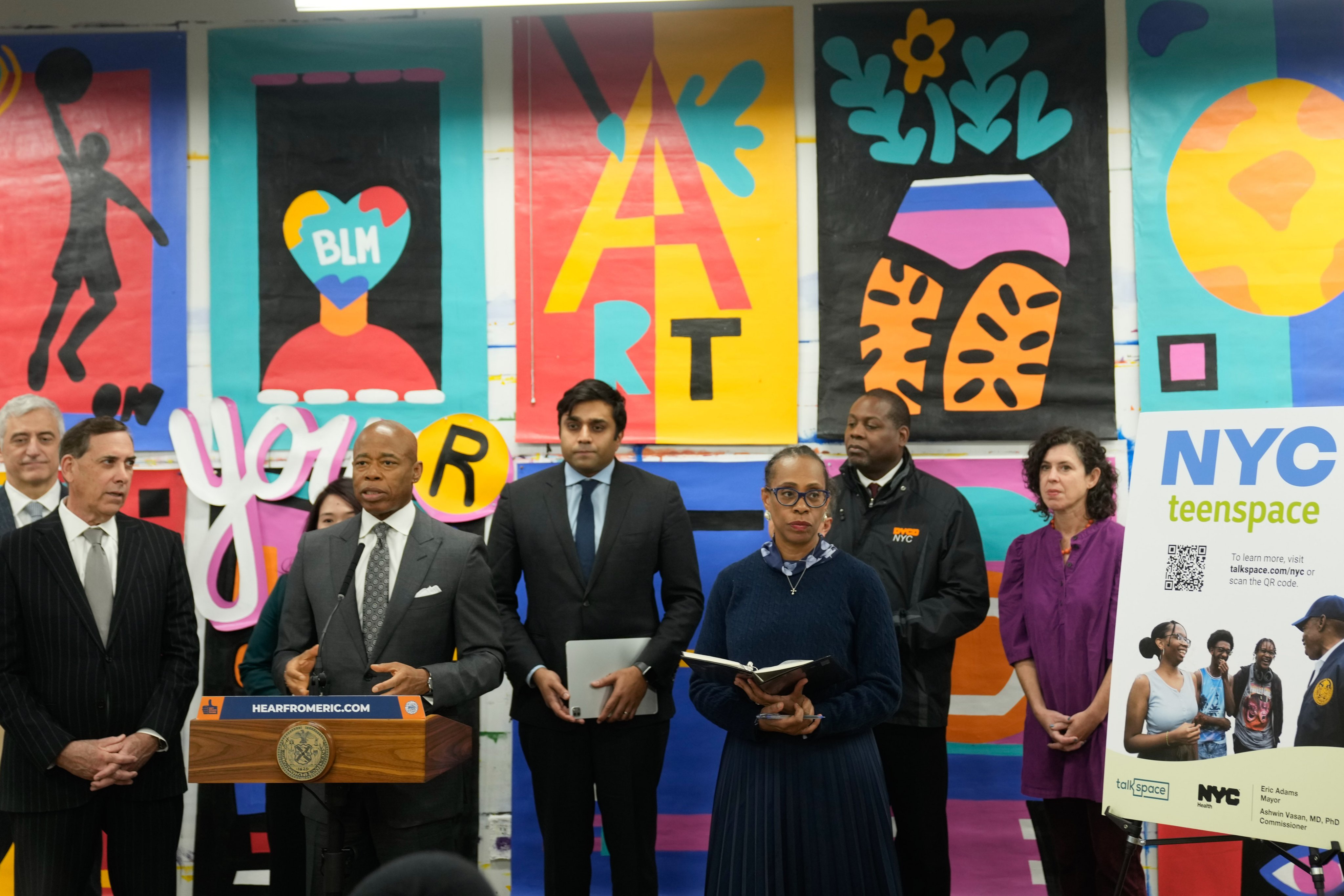 Teenspace Launch event / X/@@NYCMayor
New York City Mayor Eric Adams and Department of Health and Mental Hygiene (DOHMH) Commissioner Dr. Ashwin Vasan introduced "TeenSpace," the city's free telemental health program for all teenagers in the city between the ages of 13 and 17.
With the help of online treatment platform Talkspace, a new service called Teenspace will help teens in New York City connect with certified therapists by text, video, and phone starting this month.
"There are few issues more important than the health of our children, and study after study has reinforced what we have been seeing — the mental health of our young people is on a clear downward trajectory," said Commisioner Vasan.
'Teenspace' will provide our city's teens with a tangible resource to support their mental health and wellbeing and reduce barriers to accessing care — helping teens take greater control of their mental journey on their own terms. Supporting healthy minds from a young age will lay a foundation for the future of a healthier New York City," Vasan added.
Introducing the scheme, Mayor Adams wrote on his social media platform X, "Beginning today, all New York City teenagers, ages 13 to 17, can talk, text, or make video calls to a licensed therapist for free through the city's online #Teenspace service. Our young people aren't alone — and they should never feel that way."
The COVID-19 pandemic has increased anxiety and sadness among children and teenagers. This new initiative aims to provide teens with the necessary assistance and connections to additional care if needed. Teenspace will run the cutting-edge service that connects youth to a therapist, assisting in the introduction of care. Teens will have unrestricted chat, phone, and video access to professionals on the platform.
In order to better understand the mental health issues of New York City teenagers and to create a platform that is as helpful and responsive as possible for its users, the city and Talkspace held focus groups with the teens before designing the service. This technique also lessens the financial and physical constraints on youth by utilizing telehealth tools.