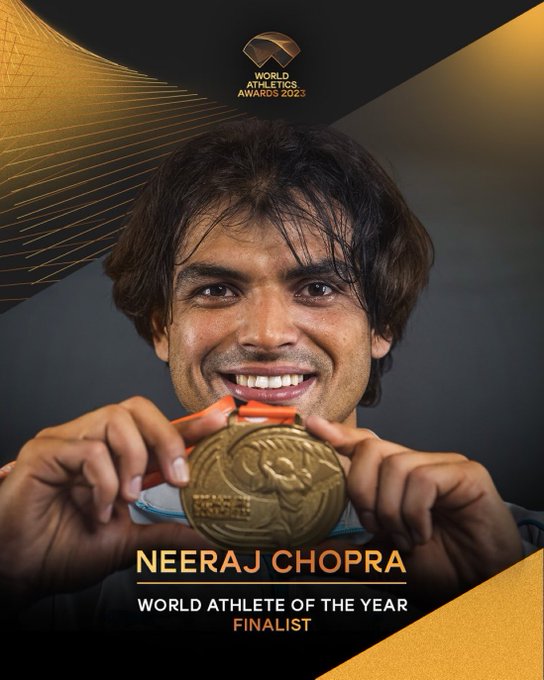 Neeraj Chopra along with 4 athletes selected as finalists for world athlete of the year award / (Image - X/ World Athletics)
Indian star athlete Neeraj Chopra was shortlisted as a finalist for the men's title of "World Athlete of the Year" by the World Athletics organization, along with four other athletes.
"The five athletes, who represent four countries from four area associations, have achieved sensational performances across a range of athletic disciplines in 2023, winning titles and breaking world records at the World Athletics Championships 2023, one-day meeting circuits, Label road races and other events around the world," World Athletics said in a release.
The 25-year-old javelin thrower is an Olympic and world champion. In addition to becoming the first Asian athlete to win gold in his event at the World Championship, he also created history as the first Asian athlete to win an Olympic gold medal in Javelin.
A Junior Commissioned Officer Subedar (JCO) in the Indian Army, Chopra was also the first Indian track and field athlete to win the World Under-20 Championships. In 2016, he established a world record with his 86.48-meter throw, making history as the first athlete from India to do so.
His competitors on the final roster for the award are Ryan Crouser of the USA in shot put, Mondo Duplantis of Sweden in pole vault, Kelvin Kiptum of Kenya in marathon, and Noah Lyles of the USA in the 100 and 200 meters.
The winners of the World Athlete of the Year will be revealed on World Athletics' platforms on December 11. A 3-way voting process was followed with fans recording their votes online via World Athletics social media platforms, where a record 2 million votes were registered, and the World Athletics Council and the World Athletics Family submitted their ballots via email.