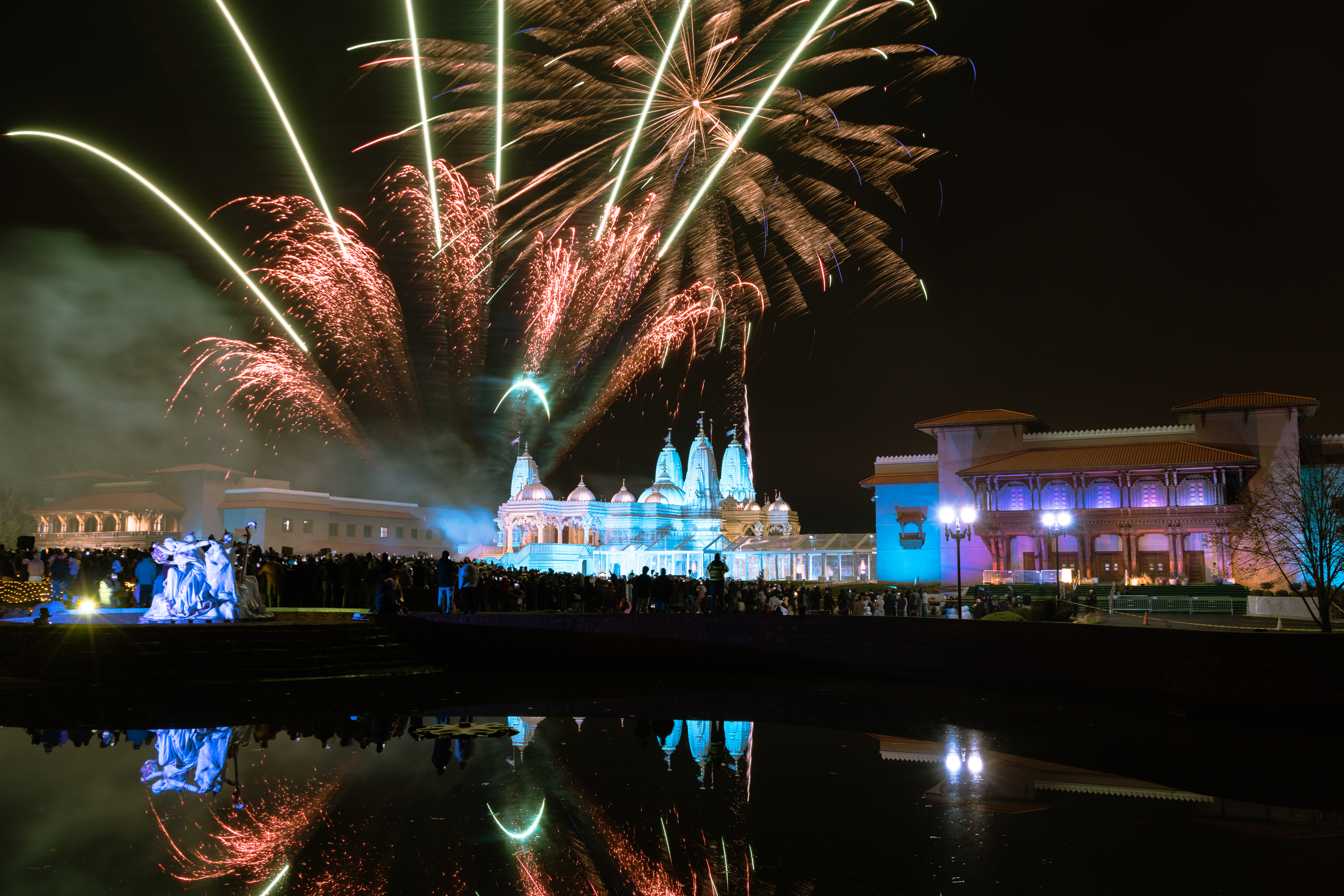 Diwali celebrations at BAPS Chicago / Image-BAPS
The BAPS Shri Swaminarayan Mandir in Chicago celebrated Diwali, the festival of lights, on a grand scale earlier this week. The festivities involved a blend of age-old traditions with contemporary expressions of faith, culture, and community, a release from the temple stated.
Temple decorations included a traditional intricate rangoli as well as the 'Annakut' presentation, in which hundreds of vegetarian dishes were offered to the idols as the new year for many Hindus began. "The annakut preparation begins very early in the morning for us," explained Jasmine Patel, a BAPS youth volunteer.
Annakut featuring over 1000 vegetarian dishes seen in the background
"The vegetarian food is traditionally arranged in tiers or steps in front of the sacred images of God..over 1,000 food items have been offered on this day of celebration and appreciation," she added.
An extensive variety of children's activities was coordinated by volunteers for the benefit of families, enabling younger generations to celebrate the festivities while strengthening their ties to their cultural heritage. The activities included craft workshops, storytelling sessions, and traditional games.
Traditional Rangoli
"I just love the fact that this is such a family and community-oriented space. I think that oftentimes when you are out in the world, you can feel disconnected or that you do not belong anywhere. Spaces like this bring people together and remind them that they are connected, and that there are people out there that share the same traditions and values. That is really important especially for the youth," shared Karina Villa, Illinois State Senator representing the 25th District.
On the occasion, the spiritual leader of BAPS, Mahant Swami Maharaj sent blessings to all devotees and well-wishers for Diwali. He urged everyone to discover their inner light and amplify it through the incorporation of unity, values, spirituality, and a generous spirit.