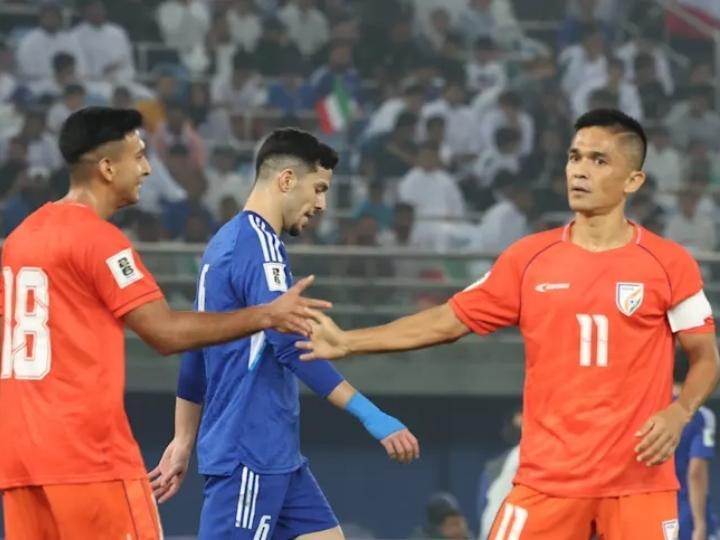 India Vs Kuwait in FIFA AFC Qualifiers / Image - Olympics
At the Jaber Al-Ahmad International Stadium in Kuwait City on Thursday, November 16, Team India began their second round of the FIFA World Cup 2026 AFC Qualifiers with a 1-0 victory over Kuwait. This was their first meeting with a Middle Eastern country this year.
Manvir Singh's lone goal in the second half sealed the victory. Kuwait didn't let the Blue Tigers off the hook easily, particularly in the first half when they held possession for the longest. However, the Indian team showed some encouraging signs, which eventually resulted in Manvir's half-volley goal in the 75th minute after Lallianzuala Chhangte's cross.
Despite Kuwait maintaining possession, the Indians applied constant pressure, particularly through defender Sandesh Jhinghan. The Indian squad missed a pair of opportunities in the first half. Sahal Abdul Samad missed one in the 18th minute after being closed out in the box, while Akash Mishra missed a chance to score in the 27th minute after receiving a freekick assist.
Before India took over, Kuwait too squandered a chance to score at the conclusion of the first half and had a strong start to the second. Kuwait continued to exert pressure on the Indian team, but they were unable to deliver the decisive blow.
After a 1-1 draw in the SAFF Championship earlier in July, Kuwait played some exciting but desperate football in the final minutes, but India made sure they didn't give up a goal and won their first match against Kuwait in 2023 5-4 on penalties.
On Tuesday, November 21, India will play Qatar in the second Group A match at Kalinga Stadium in Bhubaneswar. Another match that India must face is against Afghanistan, the fourth team in their group. The top two teams will be assured of a place in the AFC Asian Cup in 2027 and will advance to the third round of the qualifiers.