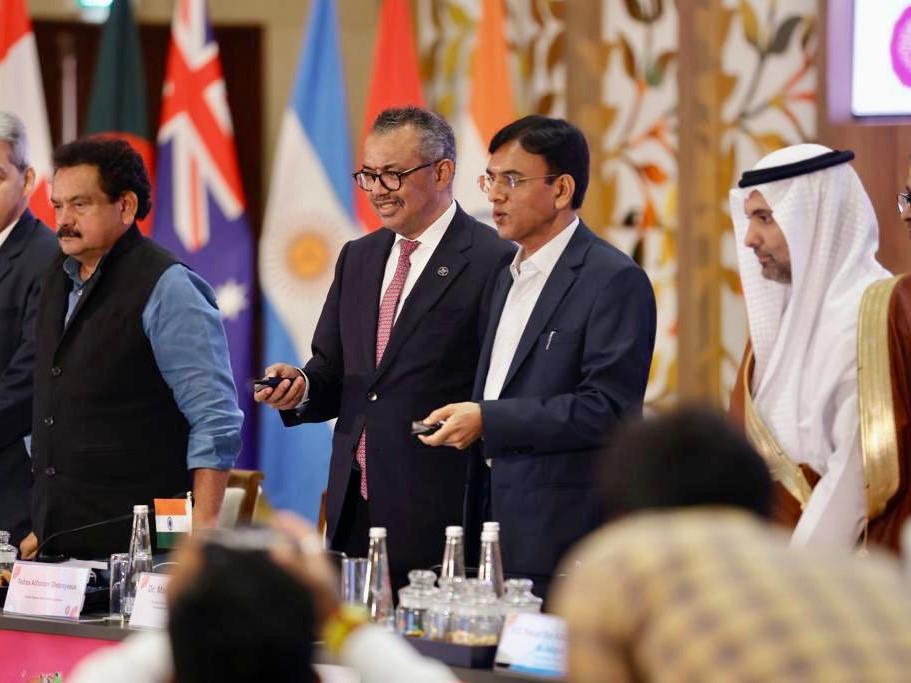 Tedros Adhanom Ghebreyesus(L) and Mansukh L. Mandaviya(R) / Image: X/@DrTedros
In this era of rapid technological advancements, India's perspective on global healthcare has transcended boundaries, spearheading innovative initiatives that are redefining the future of healthcare. One of the key pillars of this revolutionary change is the Global Initiative on Digital Health (GIDH), a visionary endeavor championed during India's G20 Presidency under the leadership of Prime Minister, Shri Narendra Modi ji.
India's response to the COVID-19 pandemic has been  exemplary. As the pandemic swept across the globe, India effectively controlled the spread of the virus within its borders while extending a helping hand to other nations by exporting life-saving medicines and vaccines under the Vaccine Maitri initiative. This spirit of global collaboration and commitment to healthcare laid the foundation for India's leadership in the Global Initiative on Digital Health, setting a precedent for effective decision-making and international collaborations in the digital health landscape.
Within just eight months of the G20 Presidency, India has showcased remarkable dedication, rallying support from diverse stakeholders and achieving tangible outcomes. The country's swift response and resolute commitment to healthcare have catapulted the concept of a global initiative to the forefront.
Digital health has emerged as a key pillar of India's healthcare strategy, with initiatives like the Primary Health Care based Ayushman Bharat Digital ID (ABHA ID), telemedicine (eSanjeevani), and Co-WIN leading the way. The ambitious Ayushman Bharat Digital Mission (ABDM) aims to establish a National Digital Health ecosystem by creating an online platform, enabling interoperability of health data so as to create a longitudinal Electronic Health Record (EHR) for citizens.
ABHA IDs provide beneficiaries with a unique digital identity, ensuring seamless access to healthcare services and benefits. As on date, more than 430 million such IDs have been created, and more than 280 million health records have been linked. India's National Telemedicine Service has also transformed healthcare delivery, offering telemedicine services even to remote and underserved areas. With a daily count of more than 400,000 calls, this initiative has crossed 140 million teleconsultations as on date.
At the core of India's approach to digital health lies the unwavering prioritization of its citizens' well-being. This commitment is exemplified by the administration of over 2.2 billion doses of vaccines to its own population, demonstrating India's dedication to safeguarding public health. The determination to ensure widespread vaccination coverage extends to the Global Initiative on Digital Health, envisioning a future where healthcare is not just accessible, but also inclusive and driven by cutting-edge technology. The Co-WIN (web portal for COVID-19 vaccination registration) platform has played a pivotal role in efficiently administering vaccines, optimizing resources and streamlining the vaccination drive.
Integrating digital innovations for expanding the reach of health services is not new to India. We have designed the Reproductive & Child Health portal which tracks and supports individual beneficiaries through their reproductive lifecycle for timely provisioning of full antenatal, postnatal and delivery services and caters to complete immunization services for children. Currently, nearly 210 million pregnant women and more than 180 million children are registered on the the portal. Similarly, over 458 million beneficiaries are enrolled on the Non-Communicable Disease portal to fight the rising challenge of non communicable diseases in India.
With its vast population and diverse healthcare challenges across different socio-economic groups, India recognizes the potential of digital health solutions to address healthcare gaps and ensure that no citizen is left behind.
The Global Initiative on Digital Health goes beyond domestic needs, fostering collaboration and knowledge sharing among nations to drive progress and innovation in healthcare on a global scale. By focusing on bridging the digital divide in the Global South, India has taken the lead and is committed to making advanced healthcare accessible to all, regardless of economic disparities.
Central to the success of the Global Initiative on Digital Health is the concept of a public good. India envisions a healthcare system that benefits society as a whole, transcending individual contributions and champions open sharing of solutions that drive progress in healthcare. By promoting open access to digital health resources and encouraging knowledge sharing, India strives to create a more interconnected and equitable healthcare ecosystem.
We believe that adoption of transformative healthcare solutions will help to level the playing field and empower resource-limited countries to benefit from cutting-edge digital health technologies. In this spirit, the Co-WIN platform created during the pandemic, that served as the technology backbone for nationwide vaccination against COVID-19, has been offered as a public good to other countries.
India's perspective on the Global Initiative on Digital Health is imbedded in our philosophy of Vasudhaiva Kutumbakam, which means 'The World Is One Family.' This aligns with the G20 India Presidency's spirit of 'One Earth, One Family, One Future.'  As we embrace the reformative power of digital health, India is committed to leading the Global Initiative on Digital Health for its indelible impact on the future of healthcare for posterity.