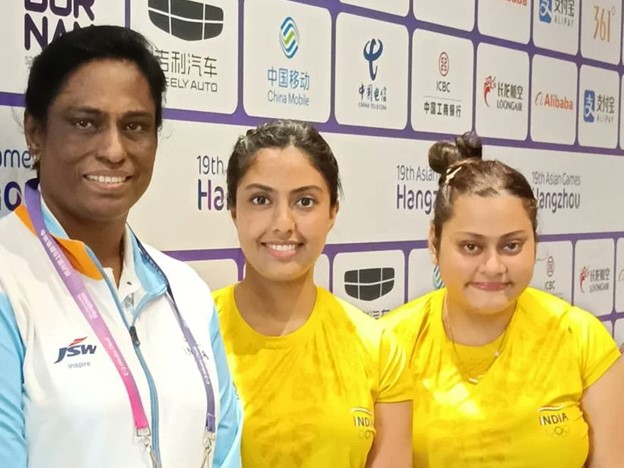 PT Usha (Left) with Ayhika Mukherjee (centre) and Sutirtha Mukherjee (Right) /
The Asian Games day nine concluded with remarkable performances by the Indian athletes, pushing the medals tally to 60. Competing in her debut Asian Games at Hangzhou, Ancy Sojan Edappilly, secured the women's long jump silver medal with a personal best leap of 6.63 meters in her fifth attempt.
The 22-year-old Indian athlete had previously missed out on a medal at the Asian Championships earlier this year, finishing in fourth place. However, she bagged a silver on October 2.
The Indian 4x400m mixed relay team, comprising Muhammed Ajmal Variyathodi, Vithya Ramraj, Rajesh Ramesh, and Subha Venkatesan, clocked an impressive time of 3:14.34. This not only earned them a silver medal but also established a new national record.
Initially finishing the race in third place, the Indian team secured a medal upgrade when the second-placed Sri Lankan team was disqualified due to a lane infringement.
Meanwhile, the Indian men's chess team clinched victory against Kyrgyzstan with a commanding score of 3.5-0.5 in round 4. They solidified their second position in the standings. On the other hand, the Indian women's chess team faced a defeat in round 4 against China. They are currently placed in the third position.
Indian athletes Parul Chaudhary and Priti Lamba secured silver and bronze medals, respectively, in the women's 3000m steeplechase final. Parul Chaudhary clinched the silver medal. Additionally, Priti Lamba bagged a bronze medal with a personal best time of 9:43.32 in the women's 3000m steeplechase final. 
In the table tennis arena, Indian players Sutirtha Mukherjee and Ayhika Mukherjee lost to DPR Korea players, Cha Suyong and Pak Sugyong, in the semi-final. However, they secured India's very first women's doubles medal in table tennis at the Asian Games. 
Former athlete, PT Usha commented on the win, saying, "It was such a proud moment watching these two amazing players Ayhika and Sutirtha Mukherjee clinch the first-ever table tennis medal in women's doubles for India at the Hangzhou Asian Games! They have scripted their names in history, inspiring many. Congratulations! #IndiaAtAG22"