After Russia's failed attempt to land its mission on the south pole of the moon, the world's focus turned to India's Chandrayaan-3, which is set to land on the moon on August 23, 2023, around 18:04 HrsIST.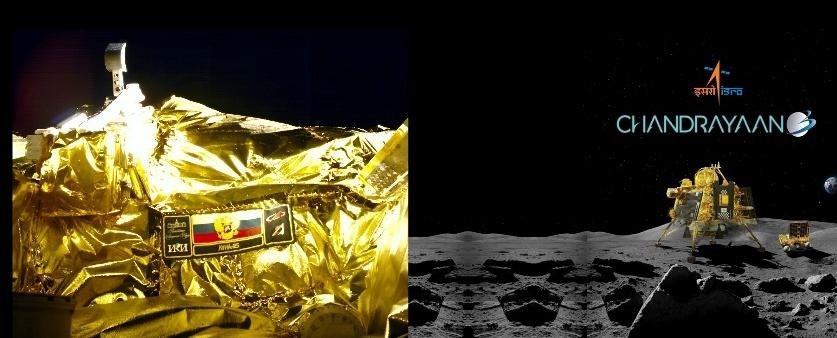 (L to R) Russia's Lunar -25 and India's Chandrayaan-3 mission. / Image – Phys.org and ISRO
The world's eyes are on India's lunar mission Chandrayaan-3, which is scheduled to land on the moon's surface on August 23. Russia's ambitious moon mission, Luna-25, crashed into the moon on August 20 after the mission spacecraft spun out of control due to a problem preparing for pre-landing orbit, according to Russia's state space corporation, Roskosmos. 
After Russia announced its lunar mission failure, the world focused on India's moon mission Chandrayaan-3. The Indian spacecraft comprising a lander Vikram and rover Pragyaan is scheduled to start its descent at around 05.45 pm August 23. The landing on the surface will be at 06:04 pm on the same day. 
Earlier, in a manoeuvre, the lander had successfully separated from the spacecraft's propulsion module on August 17. The lander and rover Pragyan are now on the final trek to the Moon to touchdown on August 23.
In an update on the mission, Indian Space Organization (ISRO) said, "The second and final deboosting operation has successfully reduced the LM orbit to 25 km x 134 km. The module would undergo internal checks and await the sun-rise at the designated landing site. The powered descent is expected to commence on August 23, 2023, around 1745 Hrs. IST." ISRO added that Chandrayaan-3 will land at around 18:04 Hrs. IST on August 23.
In a statement, Roskosmos said during its final pre-landing manoeuvre, it had lost connection with the mission craft at 11:57 GMT on August 19 after a problem as the craft was shunted into pre-landing orbit. Russia's space agency planned a soft landing of a craft on the South Pole of Lunar for August 21.   
"At about 14:57 Moscow time, communication with the Luna-25 spacecraft was interrupted. The measures taken on August 19 and 20 to search for the device and get into contact with it did not produce any results," announced Roscosmos. "According to the results of the preliminary analysis, due to the deviation of actual parameters of the impulse from the calculated ones, the device moved to an off-design orbit and ceased to exist as a result of a collision with the lunar surface."