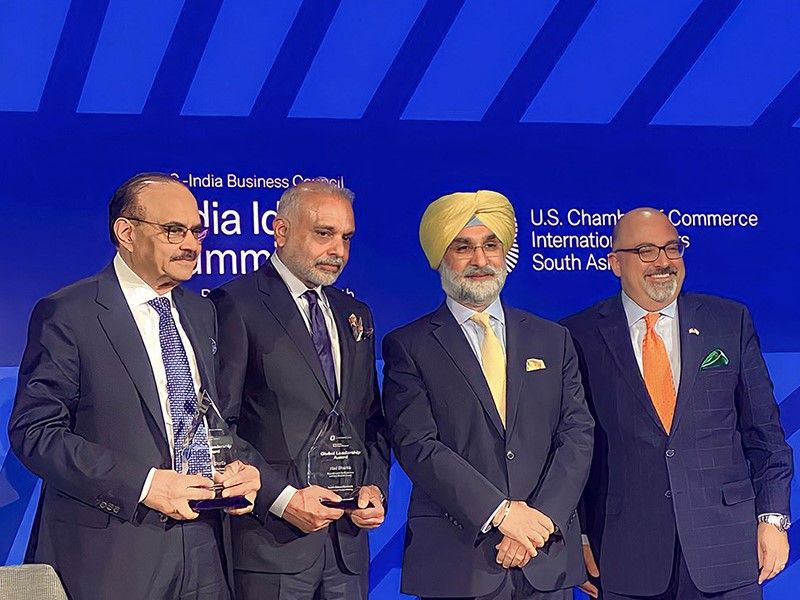 U.S.-India Business Council (USIBC) honoured the founders of Jubilant Bhartia Group Shyam S. Bhartia and Hari S. Bhartia with the prestigious Global Leadership Award on June 13. The Award was presented by the Chief Guest, Taranjit Singh Sandhu,  India's Ambassador to the United States at the USIBC's India Ideas Summit held in Washington D.C.
The founders have been recognized for their exemplary contribution towards strengthening the U.S.-India partnership over the last three decades through their various businesses. Their extraordinary journey demonstrates their spirit of enterprise, their adaptability and the potential of family-owned business in India which is a story that serves as an inspiration to aspiring entrepreneurs in India to chase global recognition, said a release issued by the company.
The prestigious annual award pays tribute to inspirational global leaders who are not only extraordinary performers in their field but also epitomize the potential of India-US collaboration, the release said.
The company has a strong presence in diverse sectors like pharmaceuticals, contract research and development services, proprietary novel drugs, life science ingredients, agri products, performance polymers, food Service (QSR), food, auto, consulting in aerospace and oilfield services.
Shyam, together with his brother Hari, is the founder and chairman of Jubilant Bhartia Group headquartered in New Delhi, India. He holds a bachelor's degree in commerce from St. Xavier's College, Calcutta University. Shyam has been associated with various institutions and has served as a Member of the Board of Governors, Indian Institute of Technology (IIT), Mumbai and Indian Institute of Management (IIM), Ahmedabad.
Hari is the founder and co-chairman of the company and is a former President of the Confederation of Indian Industry (CII) (2010-2011). He is a member of several educational, scientific and technological programs of the Government of India and a former chairman of the Board of Governors of the Indian Institute of Management (IIM), Raipur and the Indian Institute of Technology (IIT), Kanpur. He is currently a member of the International Advisory Board of McGill University, Canada.