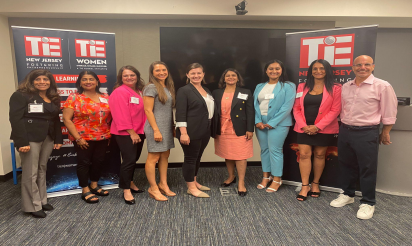 Finalists of the 2023 Women Pitch Competition / Image-Tie
The Indus Entrepreneurs (TiE) New Jersey chapter recently announced the winners of its inaugural Women Pitch Competition, held at the NJEDA, Bioscience Center. This high-stakes event highlighted the state's most innovative business minds, heralding a new era of female leadership in the startup world. 
After the Semi-final rounds in August, six finalists were chosen from a pool of fourteen female entrepreneurs. Madhu Stemmermann founder of SunRay Scientific emerged as the winner, and will represent the NJ capter at  the TiE Global Summit 2023, to be held at Singapore in November 2023.
XN Health's Elizabeth Jaworski came in second, and Symba's Nikita Gupta took third. Among the finalists were Sloane Tilley of DIA, Donna Conroy of SciMar ONE, and Kirthika Parameshwaran of Vital Start Health.
Judge Neha Desai Shah, president and co-founder at GEP in her speech at the competition highlighted the challenges women face while running a business and finding a balance between their entrepreneurial pursuits and personal responsibilities.
 "Despite these challenges, women entrepreneurs contribute significantly to economic growth, innovation, and job creation. They bring unique perspectives and problem-solving skills to their businesses. Organizations such as TiE and policies that support work-life balance, gender equality, and entrepreneurship can help women overcome these challenges and thrive as both caregivers and business leaders." she said.
Highlighting the significance of the competition, Lata Shetty, founding limited partner  at How Women Invest Funds and one of the judges said, "The TIE-NJ Women's Pitch was much more than just a competition —it spotlighted our determination and collaborative spirit to disrupt the 2 percent of Venture Capital invested in US female founders and less than 0.5 percent invested in Women of Color  Founders, even though female founders outperform their male peers by 35 percentb ROI while generating 10% more in cumulative revenue over a 5-year period."
According to the organization's news release, each of the six finalists benefited from a number of educational initiatives, such as Mentor Walks, company Model Canvas workshops, and Pitch Deck preparation sessions, all designed towards polishing their company concepts and presenting skills.
Dr. Suresh U. Kumar, president of  TiE-NJ lauded  the NJ Women's special interest group  for being the most active and taking initiative to create a positive change for women founders."TiE is at the forefront of changing the landscape of Women's entrepreneurship at a global scale," he added.