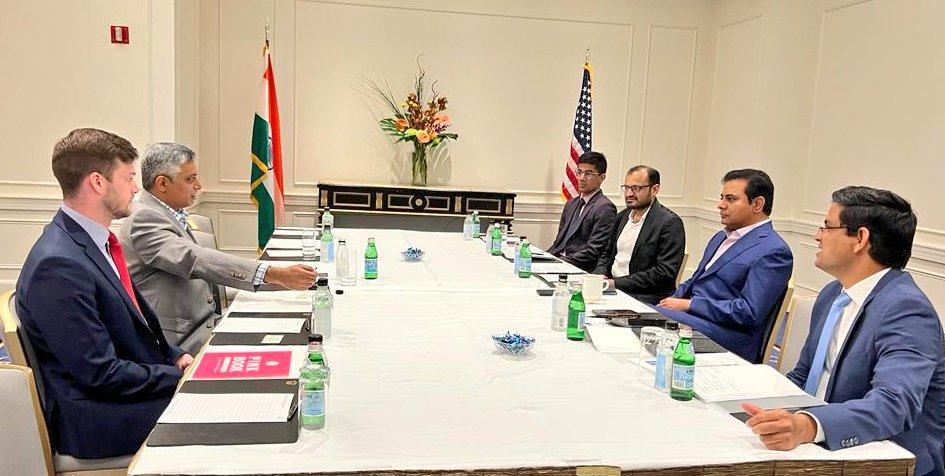 (Right side, Minister- second in a row)Telangana Industries and IT KTR led delegation met with ( Left side second in a row) Sekhar Krishnamoorthy, Chief Data and Analytics Officer for Pet Nutrition at Mars Inc in New York. / Image – X/ Minister for IT, Industries, MA & UD, Telangana
Telangana Industries and IT Minister KT Rama Rao (KTR) is leading a delegation of government officials to the United States to encourage investment in the state. He traveled to New York and Chicago as part of his visit to meet with many company representatives, Indian embassy officials, academicians, and others to increase investment inflows to the state.
According to the Minister's office, the delegation secured significant investments from a variety of companies, ranging from expansion to new facilities, resulting in the creation of new jobs in the state.
Goldman Sachs, a leading global investment banking and financial services firm headquartered in New York, and Global Healthcare Exchange (GHX) intend to expand their presence in Hyderabad by hiring more people. Goldman intends to hire 2,000 new employees, while GHX intends to triple its workforce in India by 2025, with an emphasis on expanding its Engineering and Operations teams.
The delegation met with Olympus, a leading medtech firm, to discuss investment opportunities in the state.  MetLife will establish a Global Capability Center in Hyderabad, according to information released by the Minister's office on X, further strengthening the Hyderabad BFSI landscape.
According to an investment agreement, Omnicom Group, a global media powerhouse, is expanding into Hyderabad with 2,500 new job opportunities. In addition, Persistent Systems announced its plans to create 1000 new jobs in the next 2 years. "Their dedication to Telangana's growth is inspiring, " KtR said.
The Telangana government and Mars Inc. have agreed to form a broad partnership to establish initiatives to improve pet care and nutrition in the country. The global pet food company, announced the start of phase-II expansion in Telangana with an investment of US$96.82 million (Rs. 800 crores). With this announcement, Mars Inc.'s total fixed capital investment in the state has increased from $24.20 million (Rs. 200 crores) to $181.52 million (Rs. 1,500 crores).
Hindustan Coca-Cola Beverages Pvt Ltd (HCCB) has committed an additional investment of US$78.30 million (Rs. 647 Cr) to the greenfield plant in the state. 9 Solutions, a market-leading, fast-growing global supply chain software company headquartered in the US, will make Hyderabad a hub for expanding its R&D and services delivery capacity for its global clients.
The delegation also met with Christy George, First Assistant Deputy Governor of Illinois, and Kristin Richards, Commerce Secretary, as well as representatives from World Business Chicago, to discuss potential collaboration in a variety of sectors. They also paid a visit to the Chicago Food Stop in 'World Business Chicago,' where they learned about the city's food processing industry and its well-developed innovation ecosystem.
The minister-led delegation met with Prof. Madhav Rajan, dean of the University of Chicago Booth School of Business. They exchanged views on the key role of academic collaboration in further strengthening Indo-US strategic partnership.