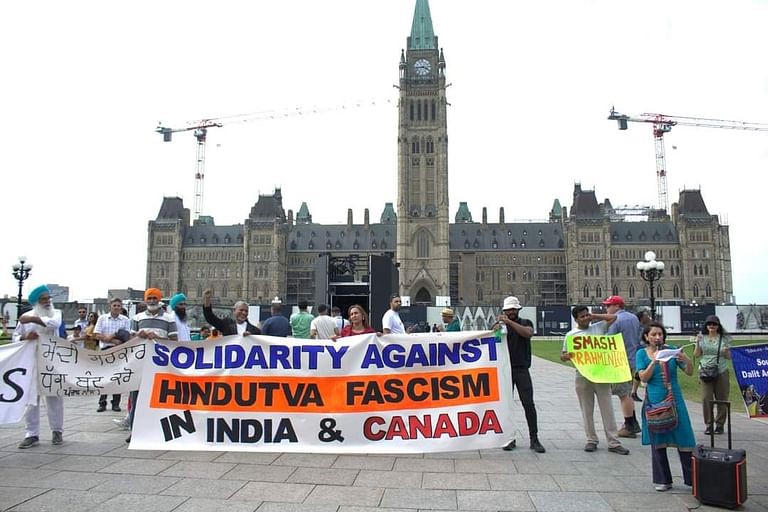 Incidents about attacks and vandalism on temples, some very prominent ones, in Canada have made headlines often in 2023. In response, petition e-4507 was initiated to Stop Hinduphobia in Canada, to be presented in the House of Commons. It seeks recognition of 'Hinduphobia' as a term in the glossary of terms in the Human Rights Code to describe anti-Hindu prejudice and discrimination. The South Asian Dalit Adivasi Network's (SADAN) Canada chapter has raised concerns against the petition, claiming it will have a "disastrous impact on the safety of religious minorities, caste oppressed communities, and human right defenders in Canada, India, and beyond," in a press release.
Petition e-4507 was opened for signatures on July 19, 2023, and has garnered 8179 signatures at the time of this writing, as per the House of Commons website. It is supported by federal Member of Parliament (MP) Melissa Lantsman. The petition calls upon the House of Commons to recognize "denial, negation, prejudice, or vilification against Hindus, Hinduism, or Hinduness" as the "definition of Hinduphobia or anti-Hindu sentiment." It also seeks the provision of education and training materials along with a robust plan to educate Canadians about Hinduphobia and anti-Hindu sentiment to raise awareness and address systemic and institutional Hinduphobia.
SADAN, in the press release, said "A bill asking for special treatment for Hinduism will be severely traumatizing and threatening for vulnerable members of our communities, including our children who are at the risk of facing Hindu supremacy and casteist discrimination every day." The organization requested all the elected representatives to oppose the petition to ensure some of the most fundamental rights of Dalits, Adivasis, Muslims, Sikhs, and Christians, in Canada and globally, remain protected.