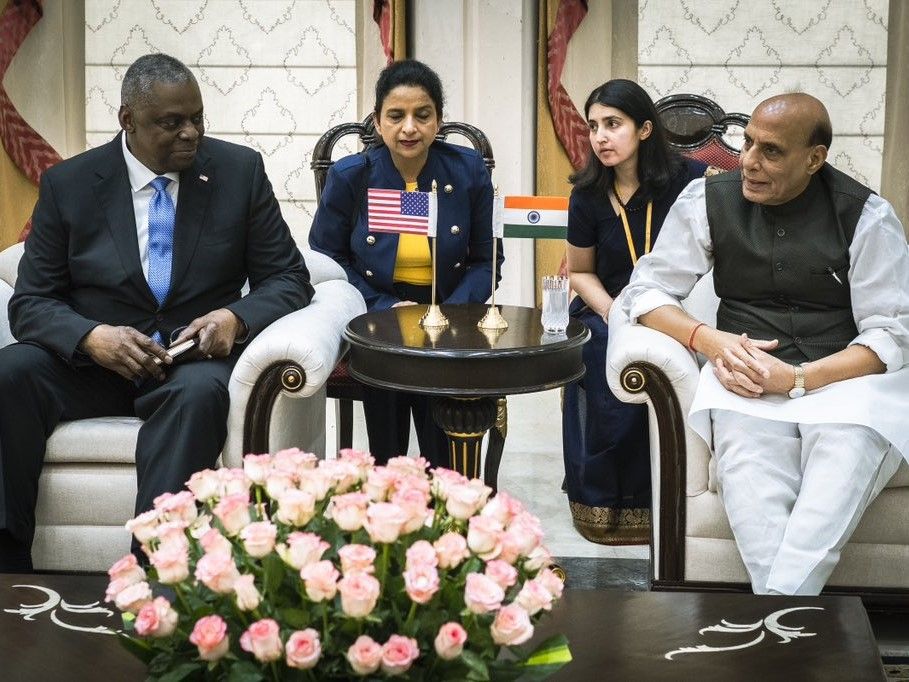 Defense Minister Rajnath Singh and US Secretary of Defence Lloyd Austin held a bilateral meeting in New Delhi on June 5. The meeting emphasised the shared commitment to enhancing defence cooperation between India and the United States, discussing a wide range of bilateral defence issues, with a special emphasis on strengthening industrial cooperation.
During the meeting, the ministers reviewed their strong cooperation and pledged to sustain the positive momentum. They welcomed recent dialogues on AI and defence space for enhancing collaboration. Recognizing their shared interest, they discussed regional security, emphasizing their commitment to promoting peace and stability in the Indo-Pacific region.
The ministers discussed building resilient supply chains and co-developing new technologies. They emphasized increased collaboration between defence start-ups and concluded a roadmap for US-India Defence Industrial Cooperation to guide future policy direction.
Senior officials from the Ministry of Defence, including Chief of Staff General Anil Chauhan, Secretary Giridhar Aramane, and Secretary, of the Department of R&D and Chairman of Defence Research and Development Organisation (DRDO) Dr Samir V Kamat participated.
The bilateral meeting between Defense Mimister Rajnath Singh and US Secretary of Defence Lloyd Austin marks another milestone in the growing ties between India and the United States. It further strengthens the shared commitment to deepening cooperation in the field of defence, technology, and security, fostering a mutually beneficial relationship between the two nations.
Prior to the delegation-level talks, a tri-service guard of honour was presented to Secretary Austin, symbolizing the importance attached to the visit. The Secretary tweeted, "I'm returning to India to meet with key leaders for discussions about strengthening our Major Defence Partnership. Together, we're advancing a shared vision for a free and open Indo-Pacific."