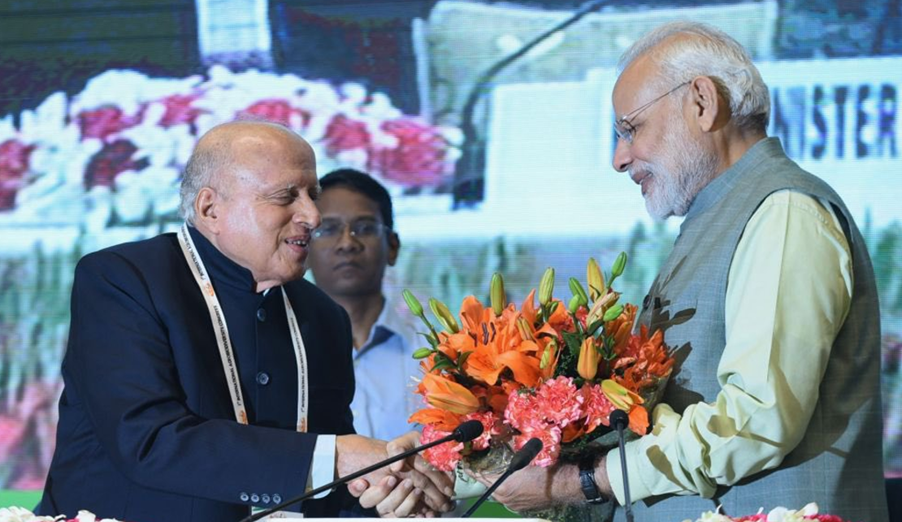 Indian scientist M S Swaminathan (Left) and Prime Minister Narendra Modi (right) / (Image: X/@narendramodi)
Indian agricultural scientist M S Swaminathan passed away on September 28, at his residence in Chennai, at the age of 98. The founder of MS Swaminathan Research Foundation (MSSRF) is survived by his three daughters: Dr Soumya Swaminathan, chairperson of MSSRF; Dr Madhura Swaminathan, professor at the Indian Statistical Institute; and Nitya Swaminathan former lecturer at the University of East Anglia.
Expressing grief over the demise, Prime Minister Narendra Modi posted on social media, "At a very critical period in our nation's history, his groundbreaking work in agriculture transformed the lives of millions and ensured food security for our nation."
Swaminathan has been recognised by TIME magazine as one of the twenty most influential Asians of the 20th century. The father of the green revolution has won many accolades in recognition of his contribution, including the Ramon Magsaysay Award for Community Leadership in 1971, the Albert Einstein World Science Award in 1986, the First World Food Prize in 1987, and Volvo, Tyler and UNEP Sasakawa Prize for Environment, among others.
Swaminathan also received the prestigious Padma Shri (1967), Padma Bhushan (1972) and Padma Vibushan (1989). He was a fellow of many leading scientific academies of India and the world, including the Royal Society of London and the US National Academy of Sciences. He has received 84 honorary doctorate degrees from universities around the world.
Brn in Kumbakonam, India, on August 7, 1925. In the 1950s, Swaminathan explained and analyzed the origin and evolutionary process of potato in the 1950s. Later, he also researched the cytogenetics of hexaploid wheat. The varieties of wheat and rice developed by Swaminathan and Nobel Peace Prize recipient Norman Borlaug were foundational to the green revolution.
He had spent 15 months in the US where he accepted a post-doctoral research associateship at the University of Wisconsin, Laboratory of Genetics to help set up a USDA potato research station.