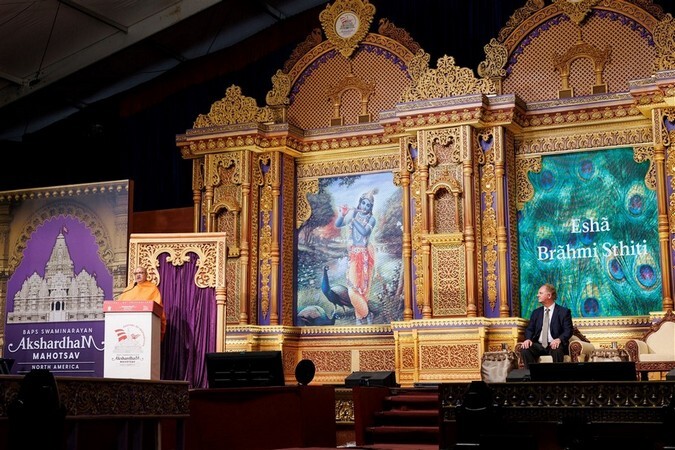 Mahāmahōpādhyāya Pujya Bhadreshdas Swami using the analogy of the ocean's calm surface amidst the deep, tumultuous waters, explains the significance of achieving inner peace and balance from the Shrimad Bhagvad Gita / BAPS
Janmashtami, a festival honoring the birth of Lord Krishna, was observed as part of the three-month-long 'Festival of Inspirations', at the BAPS Swaminarayan Akshardham, in Robbinsville,New  Jersey.
Throughout the show, memorable moments from Lord Krishna's life were recounted alongside profound spiritual insights. Shrutiprakashdas Swami spoke about the Shrimad Bhagvad Gita, emphasizing the transformative power of seeking refuge in God.
He used parallels from the Mahabharat to stress the importance of trusting in divine wisdom when facing moral dilemmas, saying that God protects those who give themselves over to Him.
Bhadreshdas Swami, a renowned scholar, cited another verse from the Shrimad Bhagvad Gita, Esha Brahmi Sthiti, to consider how achieving brahmi stiti, the state of utmost equilibrium and oneness with God, is the result of transcending material desires, embracing equanimity, and aligning oneself with Aksharbraman.
BAPS leader, Mahant Swami Maharaj, swining Krishna Idol
Using the Vachnamrut as an example, Sadguru Ishwarcharandas Swami explained how Bhagwan Swaminarayan's teachings can be integrated into daily life by shedding light on the unparalleled devotion the gopis held for Lord Krishna.
Various Janmashtami customs were carried out, including a reenactment of the epic Mahabharat and a dance depicting the early life of Lord Krishna. BAPS leader, Mahant Swami Maharaj swang a beautifully adorned hindolo, with the murtis of Krishna. 
The epic tale of the Mahabharat was dramatically re-enacted
The night culminated with devotional music honoring Lord Krishna's infinite mercy. Finally, the young people arranged themselves into a human pyramid, just like Bhagwan Krishna did as a child when he broke pots to get butter.
Traditional Dahi Handi Celebrations at the event
Guests, including New Jersey Assemblyman Wayne P. DeAngelo, who expressed heartfelt appreciation for the warmth and outreach of the community, Dr. Hari Eppanapally of Elysium Ventures, and Andrew Dinsmore from U.S. Senator Chris Coons' office in Delaware, were also honored at the celebration.