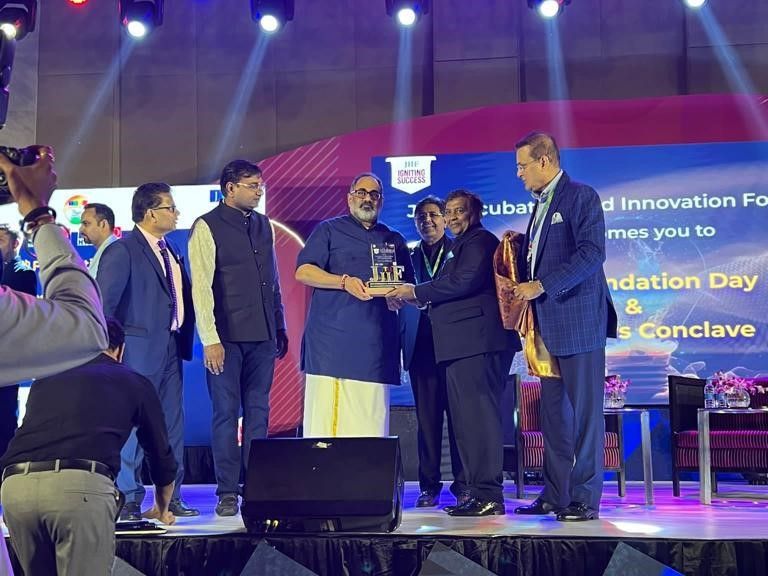 In an interaction with startups and entrepreneurs at the JITO Incubation Innovation Foundation (JIIF) 6th Foundation Day and Investors/Startup Conclave in Hyderabad on July 17, Union Minister of State for Skill Development & Entrepreneurship and Electronics & IT, Rajeev Chandrasekhar said that from being predominantly focused on IT and ITes, India in the next 4-5 years will witness substantial growth in startups and unicorns.
The minister highlighted India's remarkable progress in building unicorns and startups, and how they have successfully entered areas in emerging technologies, such as AI, Web 3, and deep tech.
"In 2014, our nation's tech landscape was limited to IT and ITes. However, since then, opportunities have emerged across various domains such as deep tech, AI, data economy, semiconductor design, microelectronics, and high-performance computing," he said.
"Due to the vision of Prime Minister Narendra Modi what was once just one-third of the overall tech space has now expanded, presenting immense potential for unicorns and startups," he added.
"From 108 unicorns I am sure we will reach 10,000 in the next 4-5 years. Today we have over a lakh startups in India and it will increase by 10 times," the Minister said.
Lauding the collaborative efforts between the industry and the government to enhance skill development, the minister further said, "Through strategic partnerships with both big and small companies, the government now works closely to identify necessary skills, creating a comprehensive framework with the active involvement of academia, communities, and corporations."
"In 2014 there were 3 out of 4 Indians who were not skilled. Professionals joined the workforce every year unskilled and this was the legacy and the reason why for many years we had many smart people but they went off abroad. Education and skills were available to the elite part of the society and the rest were left to fend off alone and survive on their own. Prime Minister Narendra Modi's Skill India reversed this," he added.