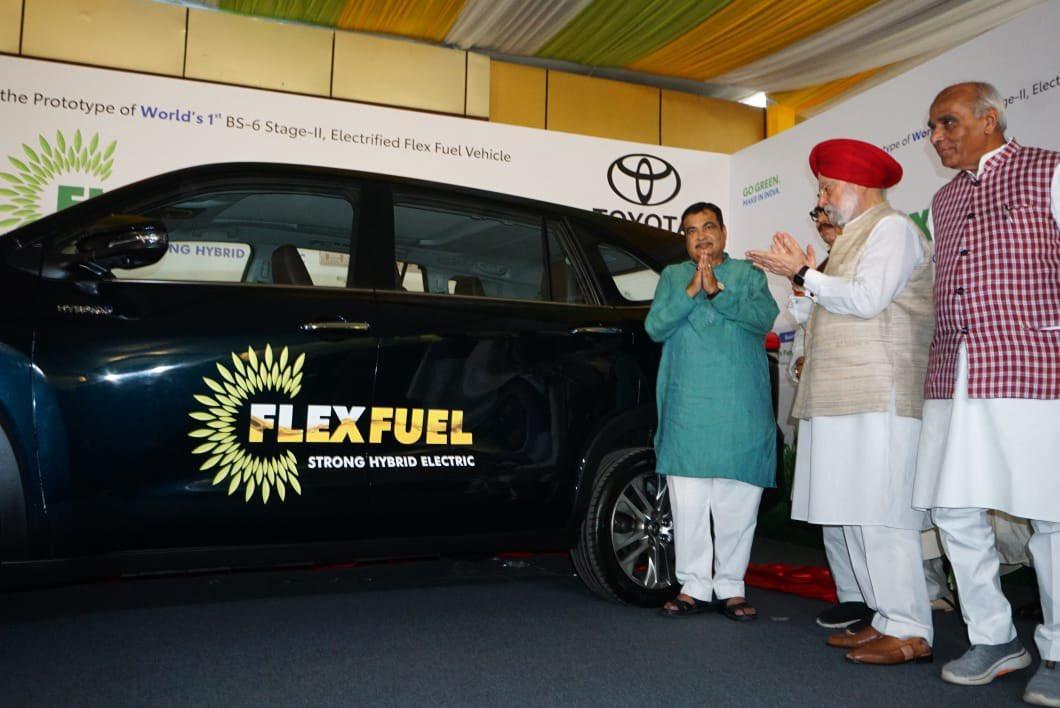 Union ministers Nitin Gadkari and Hardeep Singh Puri launched the flex fuel vehicle / PIB
On August 29, India launched the world's first prototype of the BS6 Stage II Electrified Flex Fuel Car, developed by Toyota Kirloskar Motor, in the presence of Union Ministers, Toyota Kirloskar Motor leadership, and other notable individuals.
The newly launched vehicle is an electrified flex fuel vehicle with a flexi fuel engine and an electric powertrain. This allows it to provide the dual benefit of higher ethanol use and much higher fuel efficiency, as is the case with a Strong Hybrid Electric Vehicle (SHEV), which can provide 30-50 percent higher fuel efficiency as it can run 40-60 percent in EV mode with the engine shut off.
To commemorate the occasion, Nitin Gadkari, Minister of Road Transport and Highways and the event's chief guest, unveiled the Innova Hycross Electrified Flex Fuel prototype. "It is the first-ever BS 6 (Stage II) Electrified Flex Fuel Vehicle prototype globally," he said of the launch. He stated that the next stages for this prototype will include meticulous refinement, homologation, and certification processes.
Union Minister for Petroleum and Natural Gas Hardeep Singh Puri lauded the Toyota Kirloskar Motor efforts to launch the world's first Electrified Flex Fuel vehicle. He added, "With Industry and Government collaboration, we see India becoming a global hub for cleaner technologies and achieving self-reliance in energy soon."
Speaking at the unveiling ceremony, managing director and chief executive officer (CEO) of Toyota Kirloskar Motor Masakazu Yoshimura, said, " At Toyota, we believe that 'Carbon' is the real enemy. This pioneering achievement underscores Toyota Kirloskar Motor 's steadfastness towards shaping a carbon-neutral mobility society in line with Government of India's initiatives by adopting multiple pathways.
Minister of Heavy Industries Mahendra Nath Pandey, managing director and chairperson and managing director, Kirloskar System Pvt Ltd, Geetanjali Kirloskar and noted individuals also attended the event.