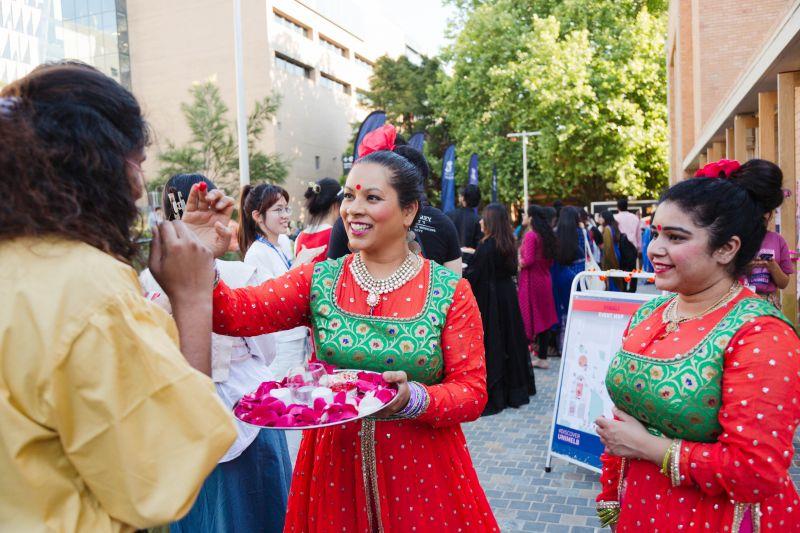 Diwali was celebrated at the university's Parkville campus / Image - University of Melbourne 
The University of Melbourne observed Diwali on its Parkville campus, bringing together more than 900 current students and staff to partake in the festivities. Diwali, the Hindu festival of lights, holds cultural significance for the Indian community worldwide and is particularly important at the University of Melbourne, where India ranks as the third-highest country in terms of representation for international students.
The event also served as an opportunity to foster greater understanding of Hindu culture and celebrations. Attendees were encouraged to participate in the festivities and learn more about the traditions associated with Diwali, a university release stated.
The celebration featured various entertainment activities, including Bollywood and sitar performances, a Bollywood DJ, traditional Indian crafts, rangoli art, and food trucks offering a diverse array of local Indian cuisine and sweets.
Deputy vice-chancellor professor Michael Wesley expressed satisfaction at the University of Melbourne's initiative to celebrate diverse and vibrant cultural occasions from around the world on campus. "Our University community is proudly multicultural and it is great to see so many people joining us for Diwali festivities," he said.
"Campus events like Diwali help our staff and students recognise and share their own customs and traditions while inviting the full university community to learn and connect in with the celebrations in an inclusive way" he added.
This event was part of the University's ongoing series of cultural celebrations, which included festivities such as Holi, Mid-Autumn Moon Festival, Fiesta del Sol, and various other events held earlier in the year.