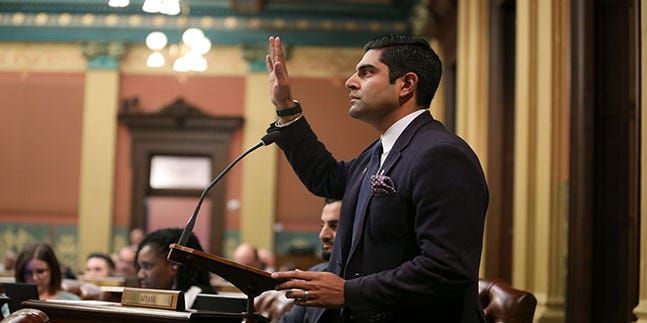 Michigan-based Indian-American legislator Ranjeev Puri has proposed a bill to broaden the scope of hate crime legislation and include acts of vandalism targeting places of worship. The State Representative who is currently the Michigan House Majority Whip introduced the Institutional Desecration Act (HB 4477) in his second term.
HB 4477 would make defacing, deconstructing, or vandalizing institutions and communal property, including houses of worship, cultural centres, and businesses a hate crime. Its goal is to prevent such targeted acts and protect these important spaces.
"I am deeply concerned with the rise in hate crime across our nation in recent years," said Rep. Puri. "Every single person should be able to live their life as their true authentic self without fear. Updating our hate crime law to include protections for additional personal characteristics, as well as institutional desecration, helps ensure that our laws reflect the core tenet that Michigan is a place where every person can and should feel safe."
"This package sends a strong message that we will not tolerate any form of hate or discrimination in our communities and that those who commit hate crimes will be held responsible. By standing up against hate and bigotry, we can create a safer and more inclusive place to call home for every Michigander," he stated.
The legislation, that is awaiting a hearing in the House Criminal Justice Committee, is co-sponsored by State Reps Noah Arbit and Kristian Grant.‌