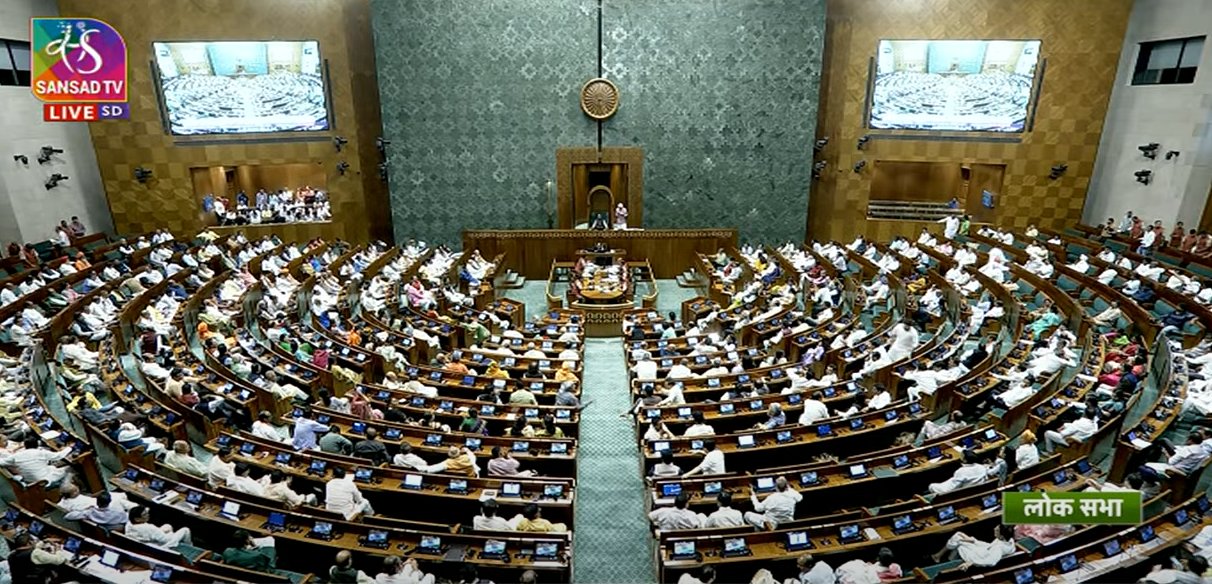 Proceedings at the Lok Sabha / X/@SansadTV
The Nari Shakti Vandan Adhiniyam, or Women's Reservation Bill, was passed by the Lok Sabha during a special session on September 20. The bill would reserve 33 percent of seats in the Lok Sabha and Assemblies of State for women. A total of 454 lawmakers voted in favor of the bill, with only two opposing it. 
"The proposal has been passed with more than a two-thirds majority of the members present in the house," Speaker Om Birla announced after the vote. The Rajya Sabha will now debate the bill. If successful, the landmark legislation will be the first to be passed in the brand-new Parliament building. 
The reservation bill also proposes that the seats reserved for women will be rotated after each delimitation and that the reservation will continue for 15 years. 
Welcoming the bill's passing in the lower house, Home Minister Amit Shah said, "It has transformed the political discourse in our nation. Throughout the ages, women in India have shaped individuals, families, our society, and the economy with their care, compassion, and selfless contributions. The new bill will harness their power in shaping the destiny of our nation. It will strengthen our Parliamentary Democracy by making our laws and policies more gender-inclusive and effective."
The percentage of Indian women in parliament is significantly lower than the global average. According to official statistics, only 104 out of nearly 800 MPs in the country are women. Women currently make up only 14 percent of parliament and legislatures in India, but that will change once the bill is passed.  
As per Minister Arjun Ram Meghwal, the number of women in Lok Sabha will go up from 82 to 181, after implementation. 
Nonetheless, the legislation has a long way to go before it can be fully implemented. According to media reports, the bill can take effect after the delimitation exercise that may be carried out after the first census is held after 2026. This means the bill can be implemented no sooner than at least 2027.