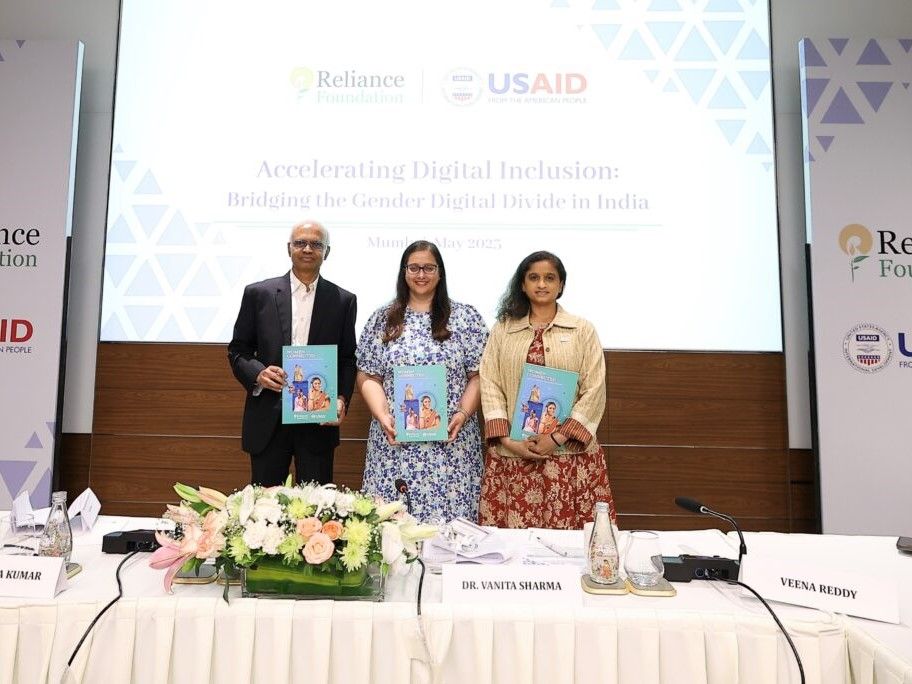 Reliance Foundation and the United States Agency for International Development  (USAID) have announced Grant winners of Round Two of the Women Connect Challenge India which works for closing the gender digital divide in India and enables women to participate in the global economy.
The winners, announced on May 24 at an 'Accelerating Digital Inclusion: Bridging the Gender Digital Divide in India' event, for this year are The Goat Trust which will build digital skills of community livestock care providers who provide business services to women livestock farmers in Uttar Pradesh and Assam; Swaminathan Research Foundation which will build the capacity of women collectives in post-harvest fisheries on a range of ICT technologies and innovations in Tamil Nadu, Puducherry.
Also Manjari Foundation, which will train rural women from women collectives on digital literacy, usage of digital services, and promote entrepreneurship opportunities in Rajasthan; Digital Empowerment Foundation, that will train and facilitate access to digital connectivity and services for women in Rajasthan, Uttar Pradesh, and Jharkhand; Seven Sisters Development Assistance, which will promote the use of technology among women self-help groups and adolescent girls from indigent and marginalized families in Assam.
ACCESS Development Services, which will provide app-based training to women entrepreneurs in Rajasthan and Yugantar, which will promote financial and digital inclusion through games, videos and other interactive tools in Telangana and Andhra Pradesh.
These seven social sector organizations selected out of more than 260 applicants, will each receive an award of up to US $120,000 in grants from Reliance Foundation to address barriers that limit women's access to technology.
The United States government partnered with Reliance Foundation to reach and support women entrepreneurs, farmers, women-led micro-enterprises and collectives, and self-help groups to provide mentoring support from experts and practitioners across India.
Speaking at the event, USAID Mission Director Veena Reddy said, "USAID works towards a future where digital technology promotes inclusive growth, fosters resilient and democratic societies, and empowers all, including the most vulnerable."
Jagannatha Kumar, Chief Executive Officer, of Reliance Foundation, said, "We are committed to working to close the gender digital divide because we believe India's digital revolution provides immense potential for women-led development. Through WomenConnect Challenge India Round Two, Reliance Foundation in partnership with USAID aims to build on the momentum generated, to positively impact over 350,000 women and their communities."