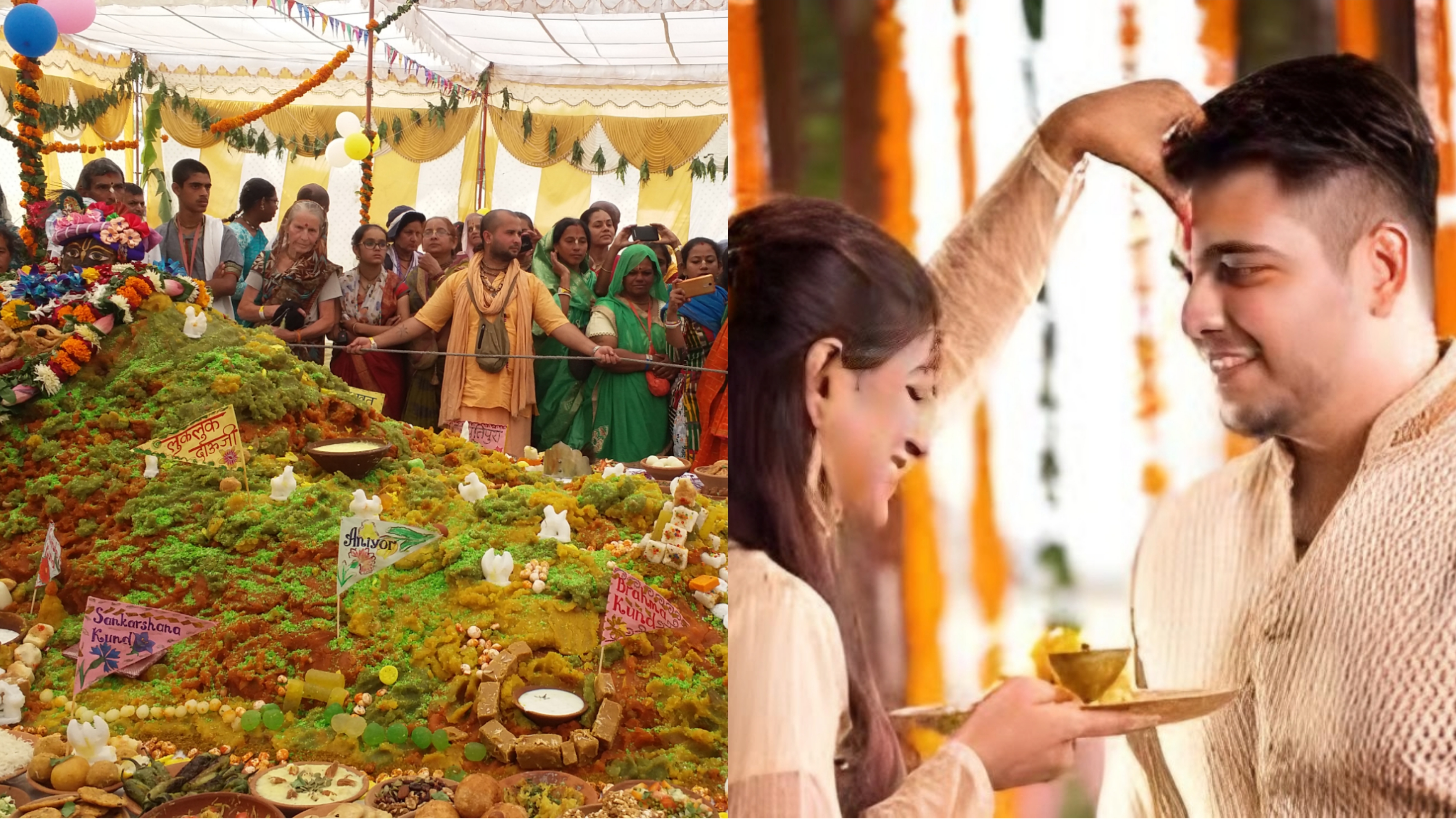 For those who have not quite shaken the holiday spirit yet, here are some things to look forward to once the Diwali celebrations end.. The Hindu festival of Govardhan Pooja is observed the day following Diwali where devotees pay respect to Lord Krishna and the Govardhan Parvat (hill), also known as Giri Raj.
Legend has it that when he was a young boy, the Hindu god Krishna saved his childhood home of Gokul in Mathura (in modern-day Uttar Pradesh) by lifting the hill with one finger. Govardhan Pooja is celebrated to worship the child form of Krishna. In 2023, Govardhan Pooja will be celebrated on Tuesday, November 14. The celebration of Govardhan Pooja has moved to a day after Diwali as Amavasya Tithi (new moon or no moon day) falls on November 13.
As part of the celebrations, devotees will adorn the statues of Krishna and his consort, Goddess Radha, with new ornaments and attire. As for the pooja, devotees heap mounds of cow dung together to create a structure symbolic of Mount Govardhan, which is then decorated using colors and flowers. The structure is then worshipped by devotees who perform the parikrama by moving around the mountain while dancing and singing the devotional hymns dedicated to Krishna.
Devotees then give thanks to the mountain and perform prayers and aarti for the protection and happiness of their family. Chappan Bhog (56 different food items) made up of delicacies, sweets, and savory items are prepared and offered to the Govardhan mountain as a form of respect to mother nature.
Bhai Dooj, or Bhai Phota as it is known in different states, is celebrated the day after Govardhan Pooja. It is fifth and final day of Diwali and will be celebrated on November 15 this year.
There are many legends about the festival's beginning, but the one most commonly associated with Diwali is that after killing the demon Narakasura Lord Krishna visited his sister Subhadra who welcomed him by applying a tilak on his forehead. Since then, this day is celebrated as Bhai Dooj.
On this day, sisters invite their brothers to their homes, apply the tilak, and offer them gifts and sweets. Brothers in return pledge to take responsibility for their sisters' safety and present a return gift.