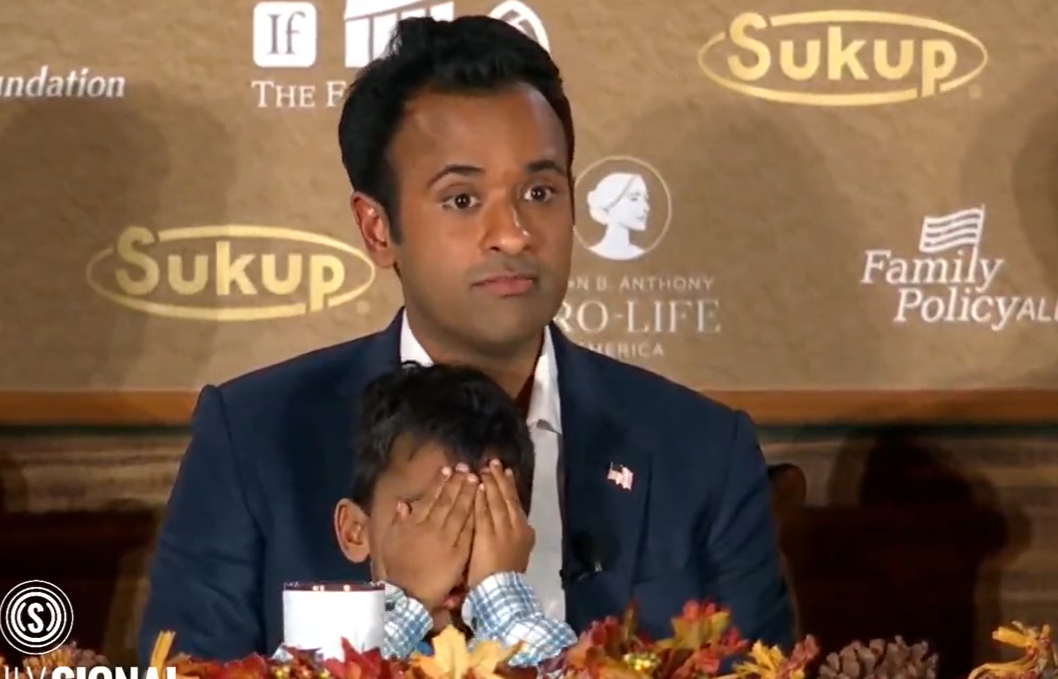 Vivek Ramaswamy with his son Kartik at the Iowa Forum / Screengrab (Twitter/@VivekGRamaswamy)
Indian American Republican presidential primary candidate Vivek Ramaswamy, who is a practicing Hindu, spoke about the importance of his faith and its impact on his presidential campaign at the Family Leader's Presidential Thanksgiving Forum in Des Moines, Iowa.
"My faith is what gives me my freedom. My faith is what led me to this Presidential campaign…I believe there is one true God. I believe God put each of us here for a purpose. My faith teaches us we have a duty, a moral duty—to realize that purpose. We are God's instruments. He works through us in different ways, but we are still equal because God resides in each of us. That is the core of my faith," Ramaswamy said.
The presidential candidate also spoke about losing his first child in miscarriage back in 2015. He said that his wife, Dr Apoorva Ramaswamy, experienced a phase of depression after losing their first baby. He appeared to hold back tears while revealing the news publicly for the first time.
Joined onstage by his three-year-old son, Ramaswamy narrated how their second pregnancy also did not go smoothly. He revealed his wife faced a health scare the second time as well. Apoorva had suffered a pinprick while operating on a patient who upon being tested, was found to be hepatitis B and HIV positive.
The health scare was followed by an incident of bleeding, and while the couple believed they had experienced their second miscarriage, their doctor found a heartbeat, and months later, they welcomed their rainbow baby, a son they named Kartik. Throughout all this, Ramaswamy maintained that his family 'drew strength from our faith'.
The roundtable discussion also included Ramaswamy's Republican opponents, Nikki Haley and Ron DeSantis. It was moderated by Family Leader president and CEO Bob Vander Plaats. During the discussion, Haley also candidly spoke about the difficulty she faced getting pregnant and clarified her stance on the abortion debate.