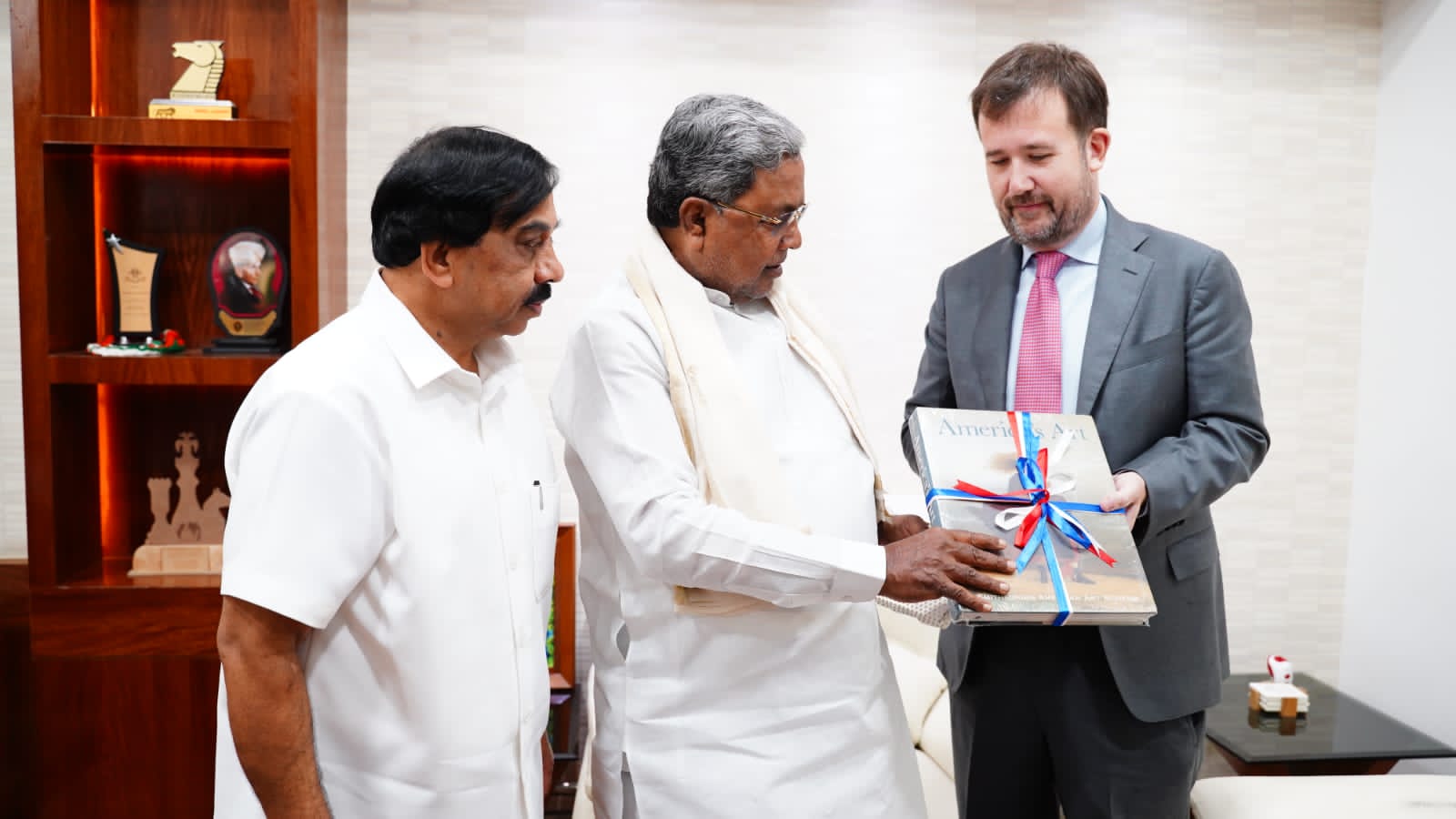 Consul General of United States in Chennai Christopher W Hodges met CM of Karnataka Siddaramaiah / Image:X/ @CMofKarnataka
Christopher W. Hodges, the newly appointed US Consul General in Chennai, met with Karnataka Chief Minister Siddaramaiah during his first visit to Bengaluru. He also met with government officials, scientists, business leaders, and entrepreneurs to highlight the strong economic and commercial ties between the United States and India. 
The day before, he was honored at a function commemorating the 30th anniversary of the US Commercial Service Office in Bengaluru. The office is one of seven commercial service offices in India, as well as a satellite office of the US Commercial Service at the US Consulate General in Chennai. The U.S. Commercial Service is the trade promotion and investment arm of the U.S. Department of Commerce's International Trade Administration. 
Speaking at the function, Hodges said, "Bengaluru is one of the United States' most important trading partners in India.  The city hosts over 650 U.S. companies and is a large part of this success story, contributing to the U.S.-India bilateral trade relationship."
Hodges highlighted the U.S. Commercial Service Office's instrumental role in establishing robust commercial ties and facilitating collaborations. Describing commercial service as a catalyst for increased trade and investment between the US and India, he added, "The economic partnership between the United States and India is flourishing, supporting hundreds of thousands of jobs in both countries and spurring technological innovation."
Reaffirming the U.S. Consulate-General Chennai's commitment to working with business communities in Karnataka and across South India to further the U.S.-India trade partnership, Hodges said, "U.S.-India commercial cooperation in the space, technology, renewable energy, healthcare, education, and aerospace sectors is stronger than ever.  As we celebrate 30 years of the U.S. Commercial Service in Bengaluru, I can't wait to see the partnerships and prosperity that the next 30 years will bring." 
U.S. Embassy New Delhi Minister Counselor for Commercial Affairs Jonathan Heimer, U.S. Consulate General Chennai Principal Commercial Officer Carey Arun, Chennai Political/Economic Chief Virsa Perkins and an array of distinguished guests, including local and international business leaders, government dignitaries, influential decision-makers, and representatives from various industries, also attended the event in Bengaluru.