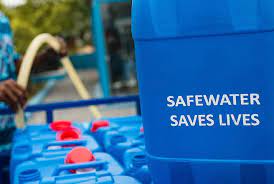 Safe Water Network (SWN), in collaboration with the U.S. Agency for International Development (USAID), released a report on Sustainable Enterprises for Water and Health initiative (SEWAH), which promotes women's participation in water-related decision-making and increases access to jobs in water and sanitation.  The report was titled as 'Rethinking Gender Equality through the Lens of Economic Empowerment in Water'.
In India, women and men traditionally have different roles and responsibilities within households, markets, schools, and communities. This leads to differences in the way they access and use water, sanitation, and hygiene services, the report stated.
SWN has developed a model to operate water kiosks (aka, Water ATMs) as viable, profit-earning enterprises that provide safe drinking water to underserved communities at affordable prices. According to a news release, the water kiosks are owned and operated by a range of entrepreneurs including community groups, corporations, and individuals, including women.
The program currently operates in 12 states across India, covering 30 cities, the release said. In March 2023, SWN undertook an assessment in 21 cities across India and interviewed more than 6000 people (65 per cent of whom were women) to understand the impact of the SEWAH activity in areas where these Water ATMs/kiosks are operating.
Safe Water Network India, vice president of Program and Partnerships, Poonam Sewak said, "Women's economic empowerment as Safe Water Enterprise entrepreneurs or operators has significantly transformed their lives and enhanced equitable and inclusive safe water for all.
The Water Aunties program includes women across the SWE value chain, putting money in the hands of the women and supporting the girl child to go to school rather than walking miles to collect water on their heads."
"At USAID, we believe access to water, sanitation, and hygiene (WASH) facilities is essential to ensure gender equality and economic progress. As we design WASH programs, we must all work to ensure the voices of the most vulnerable and disproportionately affected, such as women, are front and centre," USAID acting mission director Karen Klimowski said. "USAID is proud to mobilize and support women's participation at a local level in the decision-making process to plan, design, construct, and run these water kiosks and community initiatives, which are ensuring safe drinking water for all while generating economic opportunities for women," the director added.
In the last three years, USAID and SWN have also convened SWE practitioners and water sector stakeholders under the SWE Alliance. They have demonstrated and replicated pilots in collaboration with urban local bodies and the private sector, provided evidence-based policy recommendations and model documents to the government, and established a virtual Center of Excellence to share knowledge and best practices for scaling up affordable, safe water solutions to enhance public health, with local women playing a central role in the program.