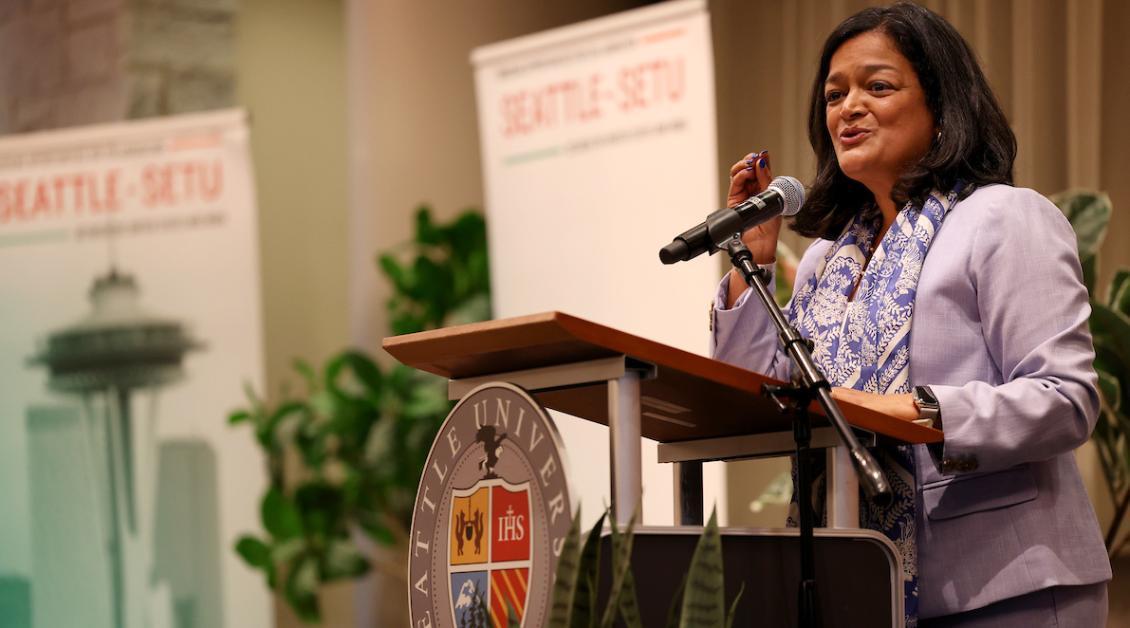 Seattle University recently hosted the Seattle-Setu conference, bringing leaders together to discuss issues around the important US-India relationship. Setu means "bridge" in Sanskrit. 
The conference highlighted the benefits that Indian businesses have brought to the state of Washington. It also emphasized the numerous investments originating from the state and flowing into India. 
The event featured a lineup of keynote speakers and themed panel discussions that delved into various aspects. These discussions covered a wide range of topics, including business collaborations and talent acquisition between India and the United States, philanthropic endeavors, and the distinctions and challenges that set India's legal system apart from the more common legal practices in the U.S.
U.S. Representative Pramila Jayapal, who serves as the Ranking Member of the House Judiciary Committee's Subcommittee on Immigration Integrity, Security, and Enforcement delivered the keynote address.. She stressed on  the importance of  immigration reforms in her speech. "That's what we need to do," she told the audience. "We haven't had comprehensive immigration reform for decades. ... It is hurting us economically and culturally. We're losing people to other countries, like Canada."
Commenting on the Roundglass India Center that was launched during the event, Jayapal said, "This opportunity to really center a dialogue about India and U.S. relations and specifically the opportunity and challenges of this region, which I am so, so proud to represent, is phenomenal. This exciting new venture has enormous potential and builds on an already strong foundation of engagement between our city and India."
Caption -The "Empowering Change: Impact on Social & Economic Development in India" panel
Topics discussed at the conference included "Empowering Change: Impact on Social & Economic Development in India," "Global Collaborations: Embracing Opportunities and Overcoming Challenges," and "U.S.-India Relations: Past, Present, and Future."  President Eduardo Peñalver, Seattle Mayor Bruce Harrell, state Senator Manka Dhingra and Sunny Singh, founder of Edifecs also addressed the gathering.