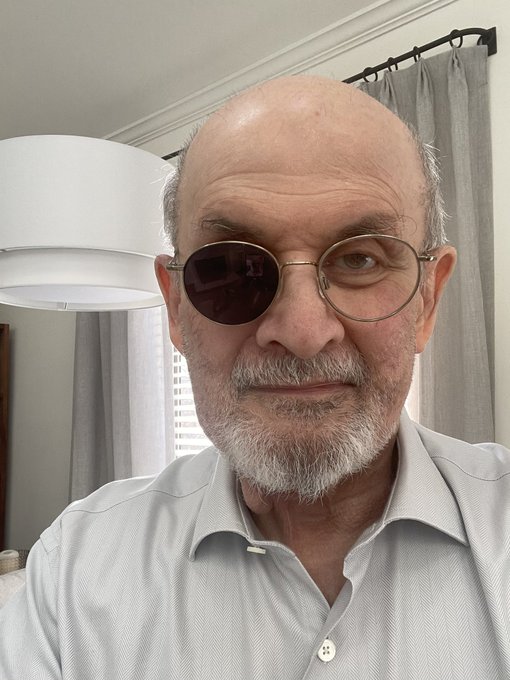 Salman Rushdie / Image/X
Indian born British-American novelist Salman Rushdie was announced winner of the "Lifetime Disturbing the Peace Award" presented by the Vaclav Havel Center. The award provides support to an outstanding writer who shares the humanitarian values of the first president of the Czech Republic, Vaclav Havel, and has suffered unjust persecution because of his or her beliefs.
"The award is given each year to a writer of a distinguished work of fiction, literary nonfiction, biography, memoire, drama, or poetry, who is courageous in dissent and has been punished for challenging an oppressive regime," as per its website, and is accompanied by a $5,000 cash prize. The first annual Disturbing the Peace Award was given to Burmese writer Ma Thida.
Rushdie, who was present at the ceremony to receive the award, said, "I apologize for being a mystery guest," The writer has been living in secrecy since the stabbing attack against him in 2022 at a Paris event that left him blind in one eye. The latest honor for him and his presence at the event were kept a secret until minutes before it was announced. "I don't feel at all mysterious. But it made life a little simpler," he added as he was treated to a standing ovation from the crowd.
Rushdie and Havel knew each other. At the event, Rushdie discussed his personal relationship with him. "Havel was a remarkable figure because he was able to be an artist at the same time as being an activist, and those things are not always easy to reconcile with each other."
"When I met him in Prague, I said: 'Are you still able to write?' 'No,' he said, 'I'm only able to write speeches.' And he regretted that, but on the whole, I think it was a tradeoff he was willing to make," Rushdie said.