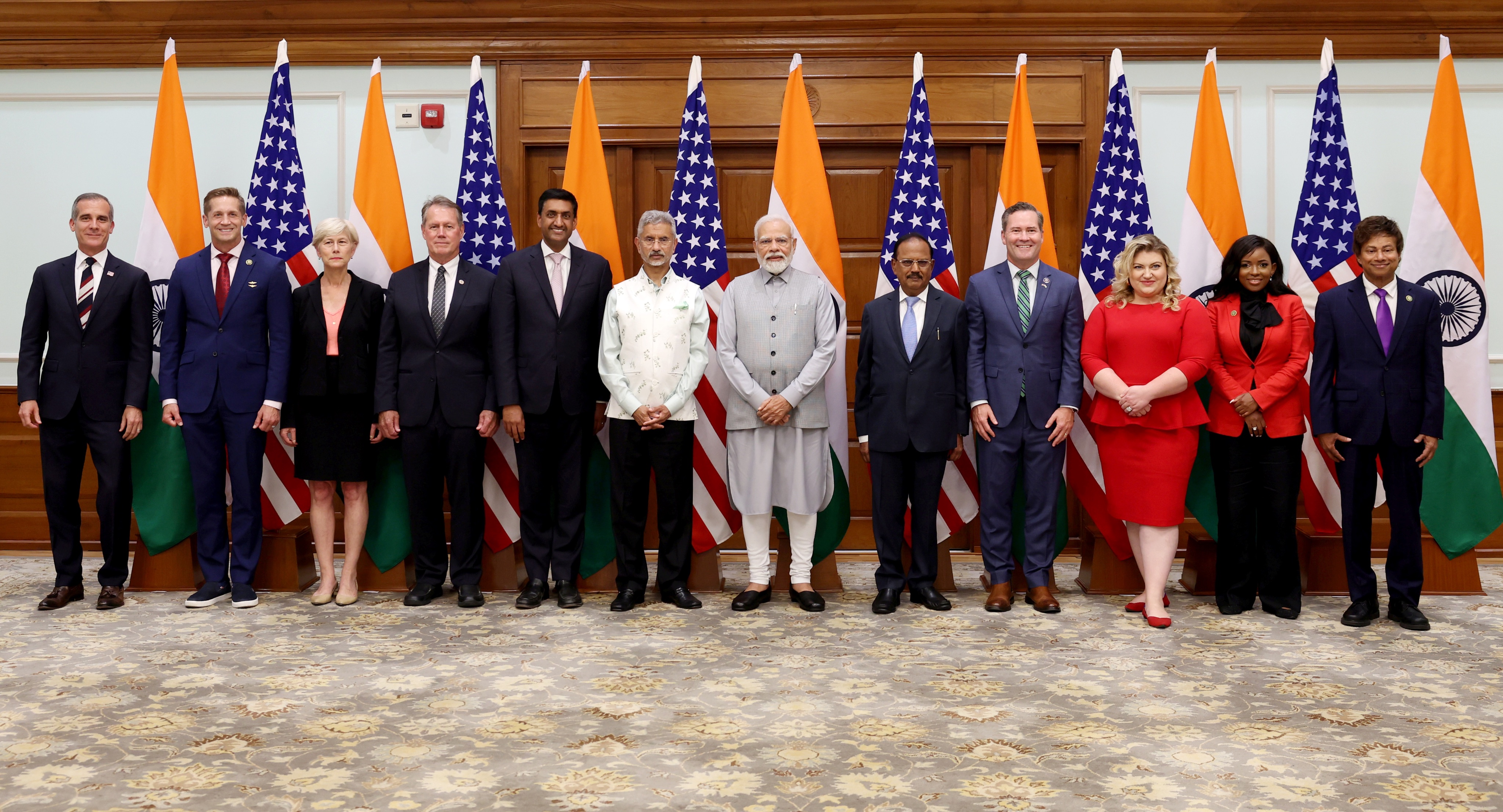 PM Narendra Modi conveyed his appreciation for the consistent and bipartisan support of the US Congress towards India-US relations in a meeting with a group of US lawmakers led by Congressman Ro Khanna and Congressman Michael Waltz, the co-chairs of the bipartisan Congressional Caucus.
The delegation during their official visit to India called on Prime Minister Modi in New Delhi. External Affairs Minister S. Jaishankar, Ajit Doval, National Security Advisor of India and US Ambassador to India Eric Garcetti were also present on the occassion.
Welcoming the eight-member US delegation to India, PM Modi recalled his historic state visit to the US in June during which he had an opportunity to address a Joint Session of the US Congress for a second time. Taking to X after the meeting, PM Modi wrote, "Glad to receive a Congressional delegation from the US, including co-chairs of India Caucus in the House of Representatives, Rep. @RoKhanna and Rep. @michaelgwaltz. Strong bipartisan support from the US Congress is instrumental in further elevating India-US Comprehensive Global Strategic Partnership."
With Jaishankar, the US lawmakers discussed the transformation underway in India, especially its outcomes of better governance and exchanged views on advancing the US-India partnership. They shared perspectives on the global situation and bilateral collaboration on multilateral, regional and global issues, the Minister said in a statement.
US Ambassador Garcetti, who accompanied the delegation, thanked PM Modi for the insightful conversation and his vision to strengthen the bilateral partnership, echoing President Biden's words, said, "The friendship between the U.S. & India is among the most consequential in the world. And it's stronger, closer, and more dynamic than ever. I am looking forward to a future of even stronger #USIndiaTogether."
In the capital, the bipartisan delegation participated in the US-India Strategic Partnership Forum (USISPF)  roundtable, which presented riveting insights on deeper cooperation across an eclectic mix of sectors and elevating the strategic partnership to new heights between the US and India.