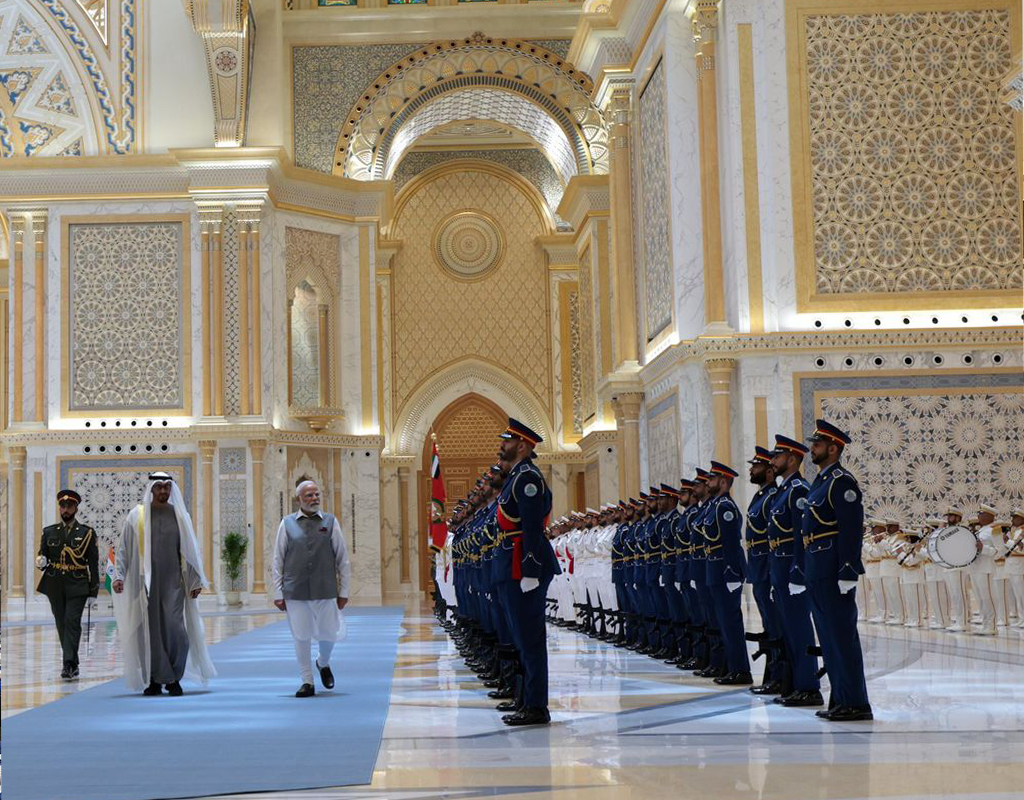 Prime Minister Narendra Modi arrived in Abu Dhabi on July 15, beginning his visit to the United Arab Emirates (UAE). The Crown Prince of Abu Dhabi Sheikh Khaled bin Mohamed bin Zayed Al Nahyan, personally welcomed the Prime Minister at the airport. A ceremonial welcome and Guard of Honour was accorded to him.
During his visit, Modi held bilateral talks with the President of UAE, Sheikh Mohamed bin Zayed Al Nahyan. Discussions that took place at both the delegation level and one-on-one talks, covered their bilateral partnership and other global issues.
Trade and investment, fintech, energy, renewables, climate action, higher education, and the common emphasis on the theme of "people-to-people connect" were among the key areas covered. Both leaders emphasized the importance of strengthening the existing ties and exploring new avenues for collaboration.
‌The highlight of the visit was the signing of three crucial agreements between the two nations. The first document was a Memorandum of Understanding (MoU) between the Reserve Bank of India (RBI) and the UAE Central Bank, which aimed to establish a framework that promotes the use of local currencies, the Indian Rupee (INR) and the UAE Dirham (AED), for cross-border transactions. Such an arrangement would optimize transaction costs and settlement time for transactions, including remittances from Indians residing in the UAE. Additionally, it would create an INR-AED foreign exchange market, facilitating investments and remittances between the two countries.
The second MoU focused on bilateral cooperation for interlinking their payment and messaging systems. This agreement will India's Unified Payments Interface (UPI) of India with the Instant Payment Platform (IPP) of the UAE, allowing users from either country to make fast, convenient, safe, and cost-effective cross-border fund transfers. This was in line with Modi's initiative of digital technology collaboration which has been a common theme in his international visits.
Furthermore, the linkage of card switches, such as RuPay switch and UAESWITCH, will enable the mutual acceptance of domestic cards and smooth processing of card transactions. The two countries also aim to explore the linking of their payment messaging systems to enhance bilateral financial messaging.
The third MoU was between the Ministry of Education of India, the Department of Education and Knowledge, Abu Dhabi, and IIT Delhi. This MoU sets the stage for planning the establishment of IIT Delhi - Abu Dhabi, UAE, further strengthening educational ties between the two nations.